Top Ten Tuesday is a weekly meme hosted by The Broke And The Bookish where bloggers and readers create a list of books based on a weekly list theme.
Today's topic was: Top Ten Books I'd Give To Readers Who Have Never Read Aussie Authors Before
1. On The Jellicoe Road by Melina Marchetta – Ask any die hard Young Adult fan, Melina Marchetta, and this book in particular, are a must read!
2. The Book Thief by Markus Zusak – Not set in Australia, but one of my all time favourite novels by an Australian Author. This book is everything a good book is made off – a great story/plot, three dimensional characters that become your family and haunting writing that will leave you in tears from the emotional depth of the story. Can not recommend this story enough!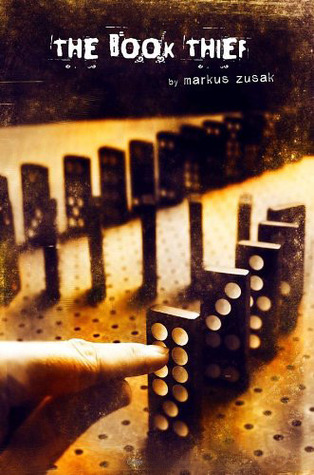 3. Burial Rites by Hannah Kent – This young Australian made her début in 2013 and took the reading world by storm last year when she sky-rocked on to the international stage with this historical fiction novel about the last women to be hung in Iceland. A film is already set to be under way – rumour has it that Jennifer Lawrence will be in it.
4. The Rosie Project by Graeme Simsion – Like Hannah Kent, Graeme Simsion was a début author in 2013 who took the world by storm when his book ignited a bidding war at the Frankfurt book fair. Fans of rom-coms will adore this book. And he's got a sequel due out later this year 🙂 Also a movie is set to be in motion as well.
5 The Husbands Secret by Liane Moriarty – I haven't actually read this one yet (I own it though), but this is the book that lead Moriarty to 'break into' the American and thus the International market. Following the success of this book in 2013 and Big Little Lies which was released recently to great acclaim, Hollywood are looking into making Liane's novel What Alice Forgot into a movie. The director of the Devil Wears Prada has reportedly signed on to make the film. I have read however, The Hypnotists Love Story and feel in love with Liane's writing.
6. Matthew Reilly – I can't actually choose here between Matthew Reilly's two action adventure series. One is known as the Scarecrow/Shane Schofield series (Ice Station, Area 7, Scarecrow, Hell Island, Scarecrow and the Army Of Thieves) and follows an American Marine who finds his way into all sorts of trouble and is the best at what he does. The other is known as the Jack West Jn series and focuses on an Australian Outback Explorer/Historian/Archaeologist as he tries to save the world from evil and is simply put fantastic. I describe Matthew Reilly's writing as an action movie in book format: fast paced with things exploding everywhere and the odd character dying.
7 Seven Little Australians by Ethel Turner. Although technically born in Englad, Ethel Turner moved out here when she was ten and is one of Australia's most loved and classic authors. I re-read her work every year that's how much I love it!
8 The Light Between Oceans by M.L. Steadman – Another Australian début Author whose novel has taken the world by storm. The Light Between Oceans is haunting and extremely well crafted novel that albeit a bit slow to start, will leave you turning the pages as quick as you possible can. It's the type of novel that you think you know where it is going only to be thwarted at ever twist and turn. The end of the novel is an emotional roller-coaster where the lines between right and wrong is so fully distorted you don't know where to turn. A MUST READ.
9. Loretta HIll – Loretta HIll writes Rural Fiction with a twist. Usually set in some remote male based industry workforce her books are sure to entertain and enthral anyone who loves a good story, a bit or romance and who just generally wants a good well written story.
10. Stage Dive Series by Kylie Scott – Man oh Man, if you are a fan of romance books and rock stars then you MUST read Kylie Scott's Stage Dive Series (Lick, Play, Lead and Deep).
This week's topic: Top Ten Characters Who X…
This week's topic: Top Ten Characters Who X…