Today I am super excited to have Aussie Author Lee Christine on the blog. Lee is the author of two romantic suspense titles – In Safe Hands and In Safe Arms – with a third due out next year. I actually had the pleasure of meeting Lee early last year in Brisbane at the Australian Romance Readers Convention, and have been hooked on her writing ever since. So if your a fan of romance, crime and a bit of suspense, or just love a really good read, make sure you check out her novels (only available in ebook) because I can assure you, you won't be disappointed.  Anyway, enough of me fan girling, here's what Lee had to say when we chatted books.
What are you currently reading?
The Hit by David Baldacci
What's the last book you bought?
Under Cover of Dark by Juanita Kees
Do you prefer to read books in print or electronically?
Electronically
If I was to walk into your house right now, what would your bookshelves look like? Do you have an organisation system (genre, colour, author…) or are you just happy to go with the flow?
A bit of both actually. One bookcase houses all the classics. My husband has autobiographies and biographies organised in another. And then there are the piles of fiction books stacked against the wall of the study.
How often do you read?
I try to read every night, even if it's just a couple of pages.
Describe what you would expect to find in your dream book?
As I love romantic suspense, it has to be a mystery, crime or thriller, woven into a hot romance.
How do you choose what to read next?
It's whatever takes my fancy at the time, so I guess that means what mood I'm in.
So you've started a book and discover it's not for you. Are you more likely to discard it or finish it?
Absolutely discard it. I won't force myself to finish a story I'm not enjoying or one I've lost interest in. I don't diss the book.
If you could read any book again, for the first time, what book would you choose?
Beach Music by Pat Conroy. I read it one year when I was skiing in Falls Creek. My children were sharing the room with me and I couldn't put the book down. It was 3:00am when I got to the end. I started crying, and so as not to alarm the children and my husband, I went into the bathroom and sat on the loo and finished it. I sobbed my heart out for about ten minutes before falling into bed, exhausted. My family wondered why I woke with a headache and didn't go skiing the next morning. It was heartbreakingly wonderful, but I'm not sure I'm up to reading it a second time.
What is about books that appeals to you so much? What is your favourite part about reading?
The journey, the escapism, the (mostly) satisfied feeling you're left with at the end of a truly enjoyable novel.
Was there any particular book that inspired you to start writing?
Funnily enough – it was a non-fiction book, Black Heart Thick Face. I've written from the age of 15. Song lyrics to begin with, then magazine articles and finally novels. Black Heart Thick Face inspired me to stop procrastinating and pen a novel.
Do you have any advice to other writers out there?
Just finish the book. You need to prove to yourself, and others, that you are capable of completing a novel. No matter if you believe it to be bad, a narrative can always be improved.
And lastly, what are you currently working on?
I'm writing my fourth romantic suspense novel, set in Italy. It's a stand-alone, not part of my 'In Safe' series. It's a cat and mouse story about intellectual property theft, and due in to my editor at the end of October.
To learn more about Lee Christine check out the following social media sites:
To purchase a copy of In Safe Hands (Book One in the "In Safe Series) click here: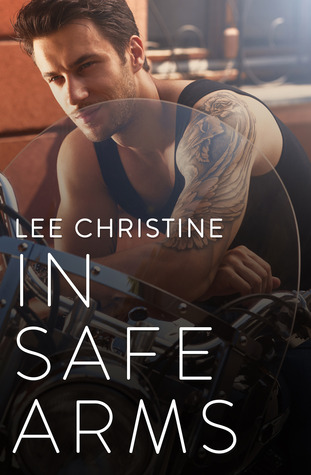 To Purchase a copy of In Safe Arms (Book Two, "In Safe" Series) click here: