In honour of Mothers Day, and thus Mums all over the world, I'm sharing a special edition of Let's talk Books and today's special guest is my Mum!
My Mum, also known as Kym to the rest of the world, is not only the woman responsible for raising me and looking after me my entire life (not an easy task at times) but she also single handedly nurtured my love of books from an early age. She's been my rock when things went bad, and the first person I gush about a book too and force one on too. So it seems fitting that she appears on the blog today of all days. Happy Mothers Day Mum! I hope you enjoy the books I've brought you 🙂
Note: Conducting this interview with my Mum was one of the most hilarious things I've ever done. It also proved that I'm defiantly my Mothers daughter, as so many of these answers are similar to the ones I gave a year or so ago.
What are you currently reading?
Outback Dreams by Rachael Johns.
What's the last book you bought?
Umm, I don't know. I don't buy them usually, I just select them out of your bookcase usually.
Do you prefer to read books in print or electronically?
Print. I have no electronic knowledge what's so ever. Anyway, I like to hold a book. It's an experience that way.
If I was to walk into your house right now, what would you bookshelves look like? Do you have an organisation system (genre, colour, author…) or are you just happy to go with the flow?
Happy to go with the flow… Yeah, we don't have any sort of organisational system here!
How often do you read?
All depends on if I have a good book, if I have a good one, I can't put it down! Put it this way, I read a lot more than I should, especially when I should be doing the housework.
Describe what you would expect to find in your dream book?
A handsome man with a six pack, long legs and big blue eyes. 
How do you choose what to read next?
Whatever I can find in the bookshelves or you keep talking about.
So you've started a book and discover it's not for you. Are you more likely to discard it or finish it?
Probably finish it to see what the outcome is. For example I just finished a book I didn't particular like, but I wanted to see what the outcome was, so I read it all and I cried at the end.
If you could read any book again, for the first time, what book would you choose?
The Bronze Horseman by Paullina Simons. I love that book.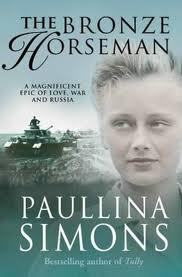 What is about books that appeals to you so much? What is your favourite part about reading?
I suppose the hero and heroine getting together appeals to me so much because real life doesn't always work out that way. (My mum is happily married and has been for almost 30 thirty years. Ironically the description of the hero she gave earlier on just happens to apply to my Dad – one I couldn't help but point out as I fell off my chair laughing. Love you Mum). 
My favourite part of reading is the way you get so engrossed in a book and can't tear yourself away; there's nothing quite like that.
What book are you most looking forward to reading next?
Matthew Reilly's next book, or more specifically his next Scarecrow book. Do you know when that comes out?
Uhh no, not yet. I'll keep you updated Mum.
And that folks is my Mum. I wish all the mums out there a very happy Mothers Day!