Published: 1st March, 2015
Publisher: Harlequin MIRA Australia
Pages: 352
Format: ebook courtesy of the publisher & Netgalley. I have since purchased paperback.
RRP: $29.99
5/5 Stars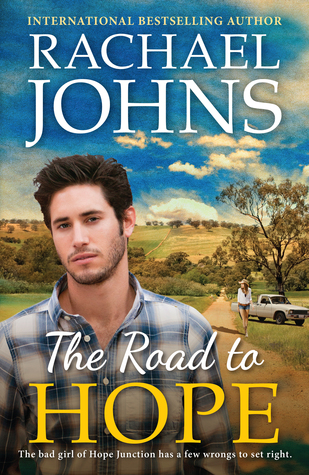 Bestselling author Rachael Johns takes you back to Hope Junction and the characters from Jilted.

Nurse Lauren Simpson is known in Hope Junction for the wrong reasons – and she's over it. Watching the man she's always loved marry someone else is the last straw – she decides to get out of Hope. But her resolve is tested when the hot new locum doctor arrives in town.

Doctor Tom Lewis also has skeletons in his closet – including a painful breakup and devastating family news. He's hit the road with his vintage ute and surfboard, to travel the outback and live in the moment.

When Tom and Lauren meet the attraction is instant, but for Lauren Tom threatens to be just another fling and Tom has his own reasons for hesitating. Everyone else – their friends and patients – can see how perfect they are together, but just what will it take for them to admit this to themselves?

A brand new Hope Junction story of fresh starts and second chances.
The Road To Hope is the long awaited follow up novel to Johns widely popular début novel Jilted. Although its not necessary to have read Jilted prior to this novel, I feel like you would engage with some of the townsfolk and secondary characters a bit more if you had done so.
The Road To Hope is a fantastic novel full of vibrant small town personalities, bucket loads of chemistry and heartache that haunts both of our main protagonist Lauren and Tom. The supporting cast of the elderly patients in the hospital that the pair work in are a rare delight, that both give the narrative life and draw you in, but also encourage our two leads who are set in their ways, and in Lauren's case determined to leave Hope forever.
From the moment Lauren and Tom meet they are immediately attracted to one another. However Lauren is reluctant to the idea, as she's made the decision that she's done with Hope Junction, and well men in general. A decision she'd made after witnessing her high school crush (Flynn) marry the girl of his dreams, and her arch-enemy (Ellie) get everything she's ever dreamed of having – Flynn, and more importantly a family and farm of her very own. Known locally for her more promiscuous behaviour and history, Lauren is sick of being treated like dirt and knows she has no chance in finding her own place in the small-minded town.
The novel opens with Flynn and Ellie's wedding, and features many of the much loved and missed characters from the previous novel. While the town is celebrating the decade-in-waiting wedding, Lauren is mourning the loss of everything she ever dreamed of achieving in the town; love, a family, and a farm to once again call home. For with the exchange of vows between the loved up pair, Lauren's fate is sealed and her last hope of finding a place in the town is dashed away before her very eyes. Making a pact to swear of men, and leave the town to find something better, she leaves the wedding with dreams of a brighter future, only to have them seemingly dashed (again) and taunted when the hot locum doctor (Tom) becomes her house mate.
Although we can sympathise with Lauren's predicament, as a reader I didn't really feel for her until she discovers Tom staying in her house – thanks to her brother. His very presence livens her up in the worst way possible. Lauren is 100 % undeniably attracted to the hunk of a man she now shares a house with and works for. But having just taken an oath against man, she does her very best to resist temptation, despite Tom's best attempts to persuade her otherwise.
Doctor Tom Lewis on the other hand is the hot outsider who waltz into town to relive the town's usual doctor and stirs up the town with gossip, fantasies, and his unconventional methods of looking after his patients welfare. There is more than meets the eye with Tom however, for the sexy and confident doctor harbours secrets and deep emotional scars of his own.
Personally I love the way Johns was able to turn a misunderstood 'villian' from the first book (because let's face it, we can't initially forget or forgive Lauren for trying to break up and keep apart the golden couple of Flynn and Ellie) and transform her before our very eyes into a three dimensional character who you generally feel for. You can't help but feel the weight of the world on her shoulders as the town judges her for past mistakes and misunderstandings. What's perhaps even more remarkable is the way in which you form this new opinion of Lauren almost on your own, rather than having Johns tell you that you need to love her; a trope that might have been all to easy to fall victim too had Johns not been the more than capable writer that she is. Rather Lauren is revealed to us in layers, with pieces of her heavy armour being chipped away at with every chapter and interaction with Tom.
Interestingly, their romance was revealed in much the same fashion. While there is undeniable sexual chemistry between the two right from the get go, neither party want to act on it at first. Or at least not for anything more than a meaningless one night stand. But as the pair spend more time getting to know each other simply by living and working together, the pull between them grows stronger and stronger. This slow burn romance was refreshing as it allowed both characters feelings and emotions to develop and the reader to discover just what it is that is holding them back.
Lauren's commitment to her patients and friends in the nursing home was touching, and although fictional, restored my faith in humanity. Here's a woman who is being beaten down by society, but continues to wear her heart on her sleeve and show compassion and friendship to those often forgotten about or left behind in nursing homes and hospital rooms for long periods of time. Tom, likewise is just as caring towards his new patients, and the pair make a formidable team when they work together to make a Christmas that their patients will never forget. Its through little moments and insights such as these that we get to see who these characters really are, and how they would and could work together.
The Road To Hope is once again a stunning novel about the cost of being true to yourself, or finding a love that's yours, and a prime example of the compassion and passion that human beings are capable of. The commitment both Lauren and Tom show towards their patients and friends in the nursing home and hospital was beautiful, and those secondary characters did everything they could to steal the show at times.
Simply put, The Road To Hope is a heartfelt romance set in a small town, and one that avid romance fans won't want to miss. I look forward to reading more of Rachael Johns' books in the future.
To learn more about Rachael Johns visit the following social media sites:
To purchase a copy of Jilted, head on over to the following online retailers: