Hosted by Sheila @ Book Journey
I had a slow reading week this week thanks to work's hectic schedule and catalogue. Seriously, I worked something like 7 FULL book pallets from Tuesday-Friday. A lot of books and heavy lifting, but man I LOVE new release week! Brought a bunch that I shouldn't have, and look forward to reading them as quickly as I can.
I had a HUGE bookish weekend too this week. I went and saw Jenn J Mcleod, Tricia Stringer and Karen M.Davis as part of the Australian Voices Tour – which is still on going for the next week and you should totally check it out! I also got to meet Len Klumpp, a man making small waves on social media at the moment for his love of all things rural romance. Such a lovely down to earth, book enthusiast. And finally on Saturday night I went to a book launch for Trinity Doyle, whose début novel, Pieces Of Sky, releases today. It's YA and sounds amazing. Trinity and Kristy Edgar had a short Q & A, prior to Trinity Doyle reading aloud from her book and it was simply amazing to be there and listen to two vibrant YA authors chat about subjects that were dear to them. It really was a great night, and weekend overall.
Currently Reading
Peter is quick, daring, and full of mischief—and like all boys, he loves to play, though his games often end in blood. His eyes are sparkling gold, and when he graces you with his smile you are his friend for life, but his promised land is not Neverland.

Fourteen-year-old Nick would have been murdered by the drug dealers preying on his family had Peter not saved him. Now the irresistibly charismatic wild boy wants Nick to follow him to a secret place of great adventure, where magic is alive and you never grow old. Even though he is wary of Peter's crazy talk of faeries and monsters, Nick agrees. After all, New York City is no longer safe for him, and what more could he possibly lose?

There is always more to lose.

Accompanying Peter to a gray and ravished island that was once a lush, enchanted paradise, Nick finds himself unwittingly recruited for a war that has raged for centuries—one where he must learn to fight or die among the "Devils," Peter's savage tribe of lost and stolen children.

There, Peter's dark past is revealed: left to wolves as an infant, despised and hunted, Peter moves restlessly between the worlds of faerie and man. The Child Thief is a leader of bloodthirsty children, a brave friend, and a creature driven to do whatever he must to stop the "Flesh-eaters" and save the last, wild magic in this dying land.

Rock Star? Angie Morelli was not one. Growing up next to Power Station's drummer didn't guarantee a taste of the limelight, unless you count catcalls at low paying gigs in seedy bars and second-rate venues. She was okay with that; working her ass off at her dad's mechanic shop during the day meant she could live her dream at night. She didn't need Power Station waltzing back into her life, Jason Irwin had done enough damage the first time. Could she let go of her hurt for a chance of hitting the big time?

A one-night stand right before Jason Irwin left for his big break was no big deal. Except it wasn't just any girl— it was Angie, Troy's hot but young and inexperienced neighbor. It should never have happened, so best he pretend like it didn't. Ten years later he remembered exactly why he went down that road. She was even hotter and she was also pissed as hell. Sounded like the perfect combination to invite on their world tour.

The road was not the place for history. It was bound to get ugly.

Book Three of the Power Station Series
Just Finished Reading
Hope To Read This Week
From #1 New York Times bestselling authors Jodi Picoult and her daughter and co-writer, Samantha van Leer, comes OFF THE PAGE, a tender and appealing romantic YA novel filled with humor, adventure, and magical relationships.

Sixteen-year-old Delilah is finally united with Oliver—a prince literally taken from the pages of a fairy tale. There are, however, complications now that Oliver has been able to enter the real world. To exist in Delilah's world, Oliver must take the place of a regular boy. Enter Edgar, who agrees to take Oliver's role in Delilah's favorite book. In this multilayered universe, the line between what is on the page and what is possible is blurred, but all must be resolved for the characters to live happily ever after. Includes twelve full-color illustrations, and black-and-white decorations throughout.

Full of humor and witty commentary about life, OFF THE PAGE is a stand-alone novel as well as a companion to the authors' bestseller Between the Lines, and is perfect for readers looking for a fairytale ending. Fans of Sarah Dessen and Meg Cabot are sure to appreciate this novel about love, romance, and relationships.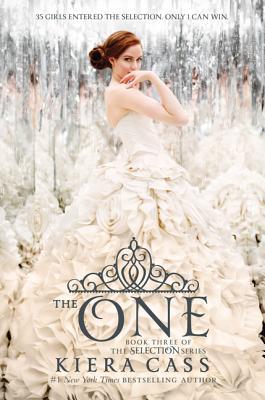 The time has come for one winner to be crowned.

When she was chosen to compete in the Selection, America never dreamed she would find herself anywhere close to the crown—or to Prince Maxon's heart. But as the end of the competition approaches, and the threats outside the palace walls grow more vicious, America realizes just how much she stands to lose—and how hard she'll have to fight for the future she wants.
Jess