Top Ten Tuesday is a weekly meme hosted by The Broke And The Bookish where bloggers and readers create a list of books based on a weekly list theme.
Today's topic was:  Top Ten Most Anticipated Releases For The First Half of 2016
Surf-loving Heidi impersonates her horse-mad twin to help Harper get a scholarship to attend the much sought-after agricultural school in this rural romance from Australia's queen of teen, Kaz Delaney. Suitable for teen readers of Rachael Treasure.

Harper Gage has won the opportunity of a lifetime – ten days at Winmaroo Jillaroo and Jackaroo school. The camp could give her the recommendation she needs to go to the exclusive Agricoll for years 11 and 12. But when an accident leaves Harper hospitalised, her twin sister, Heidi, goes in her place. The only problem is that Heidi is not much of a country girl – not like her sister. And to make life even more complicated, her sister's biggest rival Trent is going to be there. Will she be able to fool him?

And then the reality of the school hits Heidi hard. It's all dust, snakes and heat – a million miles away from the surf she loves. When she meets the fun and handsome Chaz, life at the school suddenly doesn't seem so bad, although with Trent acting up and trouble brewing with the other students, Heidi's not sure how long she can keep her identity secret. And if her secret is revealed, will Chaz ever be able to trust her again?

passage, n.
i. A brief section of music composed of a series of notes and flourishes.
ii. A journey by water; a voyage.
iii. The transition from one place to another, across space and time.

In one devastating night, violin prodigy Etta Spencer loses everything she knows and loves. Thrust into an unfamiliar world by a stranger with a dangerous agenda, Etta is certain of only one thing: she has traveled not just miles but years from home. And she's inherited a legacy she knows nothing about from a family whose existence she's never heard of. Until now.

Nicholas Carter is content with his life at sea, free from the Ironwoods—a powerful family in the colonies—and the servitude he's known at their hands. But with the arrival of an unusual passenger on his ship comes the insistent pull of the past that he can't escape and the family that won't let him go so easily. Now the Ironwoods are searching for a stolen object of untold value, one they believe only Etta, Nicholas' passenger, can find. In order to protect her, he must ensure she brings it back to them— whether she wants to or not.

Together, Etta and Nicholas embark on a perilous journey across centuries and continents, piecing together clues left behind by the traveler who will do anything to keep the object out of the Ironwoods' grasp. But as they get closer to the truth of their search, and the deadly game the Ironwoods are play­ing, treacherous forces threaten to sep­arate Etta not only from Nicholas but from her path home . . . forever.

An adrenaline-pumping suspense novel from the author of Beyond Fear. What do you do when your nightmares are real – and no one believes you?

Carly Townsend is starting over after a decade of tragedy and pain. In a new town and a new apartment she's determined to leave the memories and failures of her past behind.

However that dream is shattered in the dead of night when she is woken by the shadow of a man next to her bed, silently watching her. And it happens week after week.

Yet there is no way an intruder could have entered the apartment. It's on the fourth floor, the doors are locked and there is no evidence that anyone has been inside.

With the police doubting her story, and her psychologist suggesting it's all just a dream, Carly is on her own. And being alone isn't so appealing when you're scared to go to sleep . . .

The grass always seems greener on the other side . . . until you get there.

For generations Bronwyn Stevenson's family has thrived in the legal profession and a position at their prestigious firm is hers by right. Only problem is: she doesn't want it.

Her best friend Claudia has always dreamed of being a lawyer, but tragedy struck and she took up the reins of her father's vineyard instead. It was supposed to be temporary . . . now there's no end in sight.

Bronwyn wants Claudia's life so badly. Claudia can't imagine anything better than Bronwyn's job. So the friends hatch a crazy plan to swap places.

Both are determined to be the person they always thought they could never be. But achieving your dreams isn't easy – and falling in love with the men who oppose them isn't a good idea . . .

The Grass is Greener is a captivating novel about best friends, family and fighting for what you want, against all odds.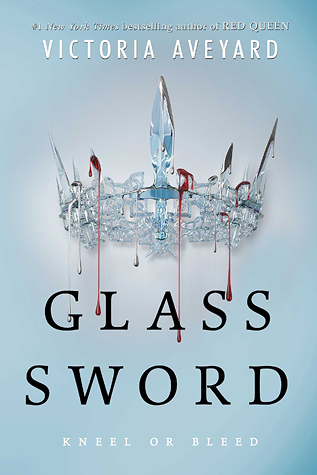 Mare Barrow's blood is red—the color of common folk—but her Silver ability, the power to control lightning, has turned her into a weapon that the royal court tries to control.

The crown calls her an impossibility, a fake, but as she makes her escape from Maven, the prince—the friend—who betrayed her, Mare uncovers something startling: she is not the only one of her kind.

Pursued by Maven, now a vindictive king, Mare sets out to find and recruit other Red-and-Silver fighters to join in the struggle against her oppressors.

But Mare finds herself on a deadly path, at risk of becoming exactly the kind of monster she is trying to defeat.

Will she shatter under the weight of the lives that are the cost of rebellion? Or have treachery and betrayal hardened her forever?
War has begun. Arin is in the thick of it, with the East as his ally and the empire as his enemy. He's finally managed to dismiss the memory of Kestrel, even if he can't quite forget her. Kestrel turned into someone he could no longer recognize: someone who cared more for the empire than for the lives of innocent people—and certainly more than she cared for him. At least, that's what he thinks.

But far north lies a work camp where Kestrel is a prisoner. Can she manage to escape before she loses herself? As the war intensifies, both Kestrel and Arin discover unexpected roles in battle, terrible secrets, and a fragile hope. The world is changing. The East is pitted against the West, and Kestrel and Arin are caught between. In a game like this, can anybody really win?
Feyre survived Amarantha's clutches to return to the Spring Court–but at a steep cost. Though she now has the powers of the High Fae, her heart remains human, and it can't forget the terrible deeds she performed to save Tamlin's people.

Nor has Feyre forgotten her bargain with Rhysand, High Lord of the feared Night Court. As Feyre navigates its dark web of politics, passion, and dazzling power, a greater evil looms–and she might be key to stopping it. But only if she can harness her harrowing gifts, heal her fractured soul, and decide how she wishes to shape her future–and the future of a world cleaved in two.

With more than a million copies sold of her beloved Throne of Glass series, Sarah J. Maas's masterful storytelling brings this second book in her seductive and action-packed series to new heights.
What would you do if your sworn enemy was also your soulmate?

The kingdom of Kaya has been overthrown by a dark power. Trapped inside the dangerous capital, rebel leader Isadora fights the only way she can – by hunting those more monstrous than she.

Falco is the exiled emperor of a nation in tatters. But fate demands he abandon the mask that has long disguised his true nature, and rise to meet his sworn enemy, the deadly Sparrow.

No one is safe from the evil sweeping the lands, not even those in the far north strongholds of Pirenti. Crown Prince Thorne is plagued by ghosts, Lady Roselyn by the past. With his land and loved ones under threat, King Ambrose must find the strength to show his people a new way of life, or allow the nation's legacy of violence to consume them.

As world's end draws near the undeniable power of the bond ties Isadora and Falco together. The death of one means the death of both. But Isadora has never before surrendered to fate. She is determined to break free and choose her own path, no matter the cost.

The heart-wrenching final chapter in the Chronicles of Kaya trilogy.

ONE CHOICE.

TWO REALMS.

NO SECOND CHANCE.

Tenley "Ten" Lockwood is an average seventeen-year-old girl…who has spent the past thirteen months locked inside the Prynne Asylum. The reason? Not her obsession with numbers, but her refusal to let her parents choose where she'll live—after she dies.

There is an eternal truth most of the world has come to accept: Firstlife is merely a dress rehearsal, and real life begins after death.

In the Everlife, two realms are in power: Troika and Myriad, longtime enemies and deadly rivals. Both will do anything to recruit Ten, including sending their top Laborers to lure her to their side. Soon, Ten finds herself on the run, caught in a wild tug-of-war between the two realms who will do anything to win the right to her soul. Who can she trust? And what if the realm she's drawn to isn't home to the boy she's falling for? She just has to stay alive long enough to make a decision…

Family can be complicated. Especially when skeletons from the past pop up unexpectedly. For American Evie Gray, finding out her deceased mother had a secret identity, and not one of the caped crusader variety, was quite the surprise. Evie's mom had a secret life before she was even born, one that involved tiaras.

In this modern day fairytale, Evie is on a path to figure out who her mom really was, while discovering for herself what the future will hold. Charged with her late mother's letters, Evie embarks on a quest into her past. The first item on the list is to attend Oxford, her mom's alma mater. There, Evie stumbles upon a real life prince charming, Edmund Stuart the second Prince of England, who is all too happy to be the counterpart to her damsel in distress.

Evie can't resist her growing attraction to Edmund as they spend more time together trying to unravel the clues her mother left behind. But, when doubts arise as to whether or not Edmund could ever be with an untitled American, what really ends up unraveling is Evie's heart. When Evie uncovers all the facts about her mom's former life, she realizes her mom's past can open doors she never dreamed possible, doors that can help her be with Edmund. But, with everything now unveiled, Evie starts to crack under the pressure of new family responsibilities and the realization that her perfect prince may want her for all the wrong reasons.
Who would make your list?
This week's topic: Top Ten Characters Who X…
This week's topic: Top Ten Characters Who X…