So I've been looking into signing up to a couple of book subscription boxes for a while now and finally decided on the Australian based The YA Chronicles for a number of reasons: the first being the two girls who run this service are based in Sydney and you've got to support local business; the second being that with the way the Australian dollar is going, I can't afford the American boxes; and finally because its Young Adult, and that genre is usually a massive hit for me no matter what the concept is. In order to get a better feel for the service, I've signed up for a 3 month subscription. In order to try and miss mass devastation or excitement over one single box and its content, I felt it would be fairer to review all three boxes before I made up my mind on the boxes as a whole. It should be noted here, that I am purchasing these boxes for myself and am not being given them to review – therefore these reviews are my own opinions and beliefs on each box I receive.

We are a subscription box where every month you receive a cute little box filed with a new release book and awesome theme-related things.
Basically The YA Chronicles are a book subscription service that you pay each month to hand pick a new release Young Adult book and a variety (1-5) of book related goodies that match each month's chosen theme. For January 2016 the theme: Travel The World. On the 18/19th of each month the boxes are sent out with next day delivery in Australia.
Past themes have included Celebrate the Season (Christmas); What Nightmares Are Made Of (November); Time and Time Again (October); That Hero Nonsense (September). To see what past boxes include click here.
 January Box: Travel The World
Once you strip the box of its courier trappings, this is the cute little packaging that the boxes are delivered in. I personally like the design of the logo and packaging that is clean, unique and recyclable too boot. When I opened the lid of the box this is what I found.
As far as I can tell, each month is a new colour to match the theme, and this month was obviously blue (which I absolutely loved, how lovely is that shade of blue?!) In each box you receive a post card, that explains the theme and what it is inside each box. After watching a number of 'unboxing videos' on YouTube in preparation for this boxes delivery I was well aware what this postcard would be and avoid it until I'd unwrapped the rest of the box to avoid spoilers. There is also a YA Chronicles bookmark that matches the colour theme of the month that I forgot to take a photo of.
The first thing I noticed about this box was this gorgeous little necklace. For those who can't read it, it says Wanderlust. I absolutely love this cute design, but probably couldn't wear it due to an allergy to certain metal types. That said I'm going to find a good place to hang it so that I can see it every day and plan my overseas trips.
Keeping with the travel the world theme was a world tattoo. I've never seen one of these and really like the concept of it.
And finally (before the book obviously) I got to the Travelodge diary. This is actually one of my favourite parts of this box, as not only does it include a basic, but very much useful travel diary, but it also includes 7 scratch world map cards! I love this idea!
I actually already own a world map (that is huge) so that I scratch off where I've been in the world, but the fact that this is compact and so handy is awesome. I can't wait to scratch of the various places I've been and start planning my next overseas holiday (its in the works – trust me!)
And finally the last, and most important part of the box was the book: Passenger by Alexandra Bracken!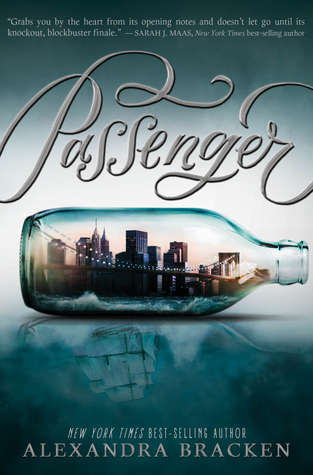 I'm actually super excited about this book after attending Harper Collins YA night just before Christmas last year where they got the entire room pumped and excited for this book. Basically it includes time travel and pirates, modern day New York and some far off time and a hint of romance. Basically a guaranteed great read. I can tell you the second I opened this box and got my suspicions confirmed over the book I was jumping up and down (on the inside of course). Straight away I started reading it and I'm currently half way through. The writing is flawless, and just like that cover quite by Sarah J Maas, the book is written is such an amazing way that words and their sentences don't simply just flow, but they sing right off the page.
Overall feeling:
Overall I'm really happy with this first box from The YA Chronicles. There were some really great trinkets/goodies in here that matched both the book and theme well, but most importantly I felt like I got my monies worth for what arrived. Unpacking the box and seeing what was inside kind of felt similar to a little kid rushing out on Christmas morning to open their presents, and it was a really great surprise to see what came without having the box spoilt before hand or having a clue what was inside. It brought a little bit of magic to the whole thing.
I should mention here that this box was delayed. The organisers did continually promote that Australian residents would be receiving the book a full week prior to its publication in Australia, but due to some communication error and a supplier issues the organisers didn't receive the books until the 25th of January themselves, almost a full week after this book was meant to be shipped out. Then because of the public holiday the boxes didn't arrive until Wednesday 27th. Delays are to be expected and the box as you can see above came in one piece and with a bunch of great book inspired goodies that it really doesn't matter in hindsight. Turns out I was quite impatient waiting for the box…
As a whole I'm excited for the next box to arrive in a month's time with February's box themed is: Rebel Without A Cause.
What You Need To Know About These Boxes:
Cost:
One month subscription is $29.99 (AUD) + Shipping*
Three months  subscription is $84.99 (AUD) + Shipping*
Six months subscription is $159.99 (AUD) + Shipping*
Shipping for Australia and New Zealand = $9.99 (AUD)/ International shipping =$24.99 (AUD)*
*Prices are correct at the time of writing/posting this blog.
To order your own subscription click here:
I'm giving away ONE lucky reader the chance to win a ONE MONTH'S SUBSCRIPTION TO THE YA CHRONICLES as part of my 3rd birthday blogging celebrations. This prize is only open to Australian and New Zealand residents as sadly I can't afford the international shipping.Because this is such a BIG prize, this giveaway will remain open until the end of the birthday celebrations and will end on Friday February 26 2016 with winners notified by email over the weekend and announced on the blog the following Monday. Please note the winners box will mostly be for the month of March depending on time constraints.
Best of luck everyone!