Now Hosted by Book Date
Well I'm still injured guys and sadly the doctor nor the specalist could shed much light on it to date … BUT I am slowly improving as well, so hopefully my body will kick start into gear soon and get right on that and hurry up this incredibly slow process! In the mean time I have started to read again – and I'm so relieved, there really is only so much day time TV one girl can stand (and this girl never watched a lot of it to begin with!).
I've got a bunch of great books lined up to read shortly, so  I'm really hopping to get back into the swing of things this month no matter what.
Don't forget to enter the 3rd birthday celebration giveaways that are still running – more on that down below. While there are still plenty more to be posted in the coming days, I've got two pretty damn exciting – one signed book and one subscription box! – up for grabs already; so don't miss out!
Currently Reading
An adrenaline-pumping suspense novel from the author of Beyond Fear. What do you do when your nightmares are real – and no one believes you?

Carly Townsend is starting over after a decade of tragedy and pain. In a new town and a new apartment she's determined to leave the memories and failures of her past behind.

However that dream is shattered in the dead of night when she is woken by the shadow of a man next to her bed, silently watching her. And it happens week after week.

Yet there is no way an intruder could have entered the apartment. It's on the fourth floor, the doors are locked and there is no evidence that anyone has been inside.

With the police doubting her story, and her psychologist suggesting it's all just a dream, Carly is on her own. And being alone isn't so appealing when you're scared to go to sleep . . .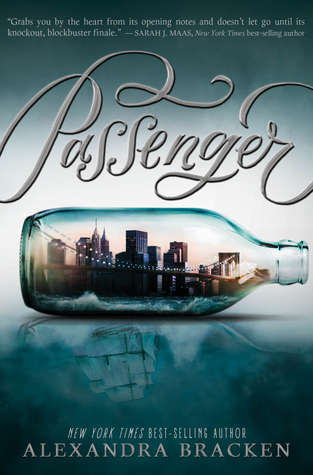 passage, n.
i. A brief section of music composed of a series of notes and flourishes.
ii. A journey by water; a voyage.
iii. The transition from one place to another, across space and time.

In one devastating night, violin prodigy Etta Spencer loses everything she knows and loves. Thrust into an unfamiliar world by a stranger with a dangerous agenda, Etta is certain of only one thing: she has traveled not just miles but years from home. And she's inherited a legacy she knows nothing about from a family whose existence she's never heard of. Until now.

Nicholas Carter is content with his life at sea, free from the Ironwoods—a powerful family in the colonies—and the servitude he's known at their hands. But with the arrival of an unusual passenger on his ship comes the insistent pull of the past that he can't escape and the family that won't let him go so easily. Now the Ironwoods are searching for a stolen object of untold value, one they believe only Etta, Nicholas' passenger, can find. In order to protect her, he must ensure she brings it back to them— whether she wants to or not.

Together, Etta and Nicholas embark on a perilous journey across centuries and continents, piecing together clues left behind by the traveler who will do anything to keep the object out of the Ironwoods' grasp. But as they get closer to the truth of their search, and the deadly game the Ironwoods are play­ing, treacherous forces threaten to sep­arate Etta not only from Nicholas but from her path home . . . forever.
Last week on the blog:
Australia Day Blog Hop Giveaway 2016!
Third Blogging Birthday: Three Years On …
3rd Birthday Giveaway DAY ONE: 'Storm Clouds' by Bronwyn Parry
REVIEW: The YA Chronicles January Box
Australia Day Blog Hop Winners …
Australian Women Writer's Challenge 2016 (AWW2016): Update 1
WIN ME: don't forget to enter these great giveaways!
A signed copy of 'Storm Cloud' by Bronwyn Parry
A ONE month subscription the the Australian based YA subscription box 'THE YA CHRONICLES'
What are you planning on reading this week? Let me know in the comments below 🙂