Now Hosted by Book Date
I had a really good reading week last week! And this week is already off to a great start as I devoured The Captive Prince by C.S Pacat's first book in less than one day. I read some fantastic book's last week too, and to be honest I think I'm still in book hangover mode thanks to Avril Tremayne's Avoiding Mr. Right. I loved that book something hard core!
As for me personally, the back is still a constant struggle as are my legs with the crazy nerves firing almost distressingly. Hopefully this will all clear up soon. In the mean time I'm celebrating that I can finally touch my knees! That's huge for me… I haven't been able to do it since Christmas.
I farewelled a colleague who passed away suddenly last week, so as a friendly reminder to everyone, hug your loved ones close and tell them you love them every chance you get. Because you never know when it could be your last.
Currently Reading
With their countries on the brink of war, Damen and his new master Prince Laurent must exchange the intrigues of the palace for the sweeping might of the battlefield as they travel to the border to avert a lethal plot. Forced to hide his identity, Damen finds himself increasingly drawn to the dangerous, charismatic Laurent. But as the fledgling trust between the two men deepens, the truth of secrets from both their pasts is poised to deal them the crowning death blow . . .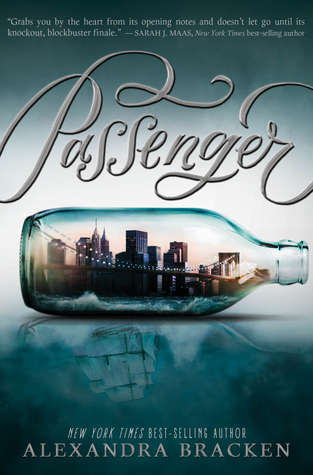 passage, n.
i. A brief section of music composed of a series of notes and flourishes.
ii. A journey by water; a voyage.
iii. The transition from one place to another, across space and time.

In one devastating night, violin prodigy Etta Spencer loses everything she knows and loves. Thrust into an unfamiliar world by a stranger with a dangerous agenda, Etta is certain of only one thing: she has traveled not just miles but years from home. And she's inherited a legacy she knows nothing about from a family whose existence she's never heard of. Until now.

Nicholas Carter is content with his life at sea, free from the Ironwoods—a powerful family in the colonies—and the servitude he's known at their hands. But with the arrival of an unusual passenger on his ship comes the insistent pull of the past that he can't escape and the family that won't let him go so easily. Now the Ironwoods are searching for a stolen object of untold value, one they believe only Etta, Nicholas' passenger, can find. In order to protect her, he must ensure she brings it back to them— whether she wants to or not.

Together, Etta and Nicholas embark on a perilous journey across centuries and continents, piecing together clues left behind by the traveler who will do anything to keep the object out of the Ironwoods' grasp. But as they get closer to the truth of their search, and the deadly game the Ironwoods are play­ing, treacherous forces threaten to sep­arate Etta not only from Nicholas but from her path home . . . forever.
Hoping To Read This Week:
A Bunyip Bay novel

Frankie and Simone are sisters and best friends. Could a new man in town drive a wedge between them for the first time ever?

Cafe owner Frankie has been unlucky in love all her life. It's hard in a small town like Bunyip Bay to meet prospective partners. Her sister, Simone, lost the love of her live years before and is now devoted to raising their two teenage girls, leaving little time for romance. When Frankie is kissed by a handsome stranger who calls her Simone, it's a case of mistaken identity – but who is this man and how does he know Simone?

Logan Knight is in town to meet up with a woman he has met online. Although raised on a farm with his brother Angus, he has travelled the world as a journalist and is now looking forward to meeting a girl and settling down. The girl in the cafe was an amazing kisser – but not the one he thought he was meeting!

Reclusive farmer Angus wants nothing to do with Logan's plans for improving the property's finances and finding a partner – until he meets the sisters at a wedding. Who is attracted to whom? More importantly, can Frankie and Simone sort out their feelings for the two brothers without destroying their very close bond.
Just Finished:
Last week on the blog:
It's Monday! What Are You Reading?
Giveaway: Win One of FIVE In Season Double Passes To See The Oscar Nominated Film Brooklyn
Let's Talk Books With Kell From Kell's Bookmark Clique and Sydney Author Event Organiser
'Bad Romeo' by Leisa Ravyen Discounted For Valentines Day! + Giveaway
RELEASE BLITZ: 'Legend' By Katy Evans
REVIEW: 'Seducing His Enemy's Daughter' by Annie West
Book Lovers Day/Library Lovers Day + Giveaway
WIN ME: don't forget to enter these great giveaways!
Book Lovers Day/Library Lovers Day + Giveaway
What are you planning on reading this week? Let me know in the comments below 🙂