Today it is my absolute honour to be able to introduce to you all another fantastic Aussie Author, Susanne Bellamy. Susanne is one of the 13 authors involved in the Bindarra Creek Romance series that I featured on the blog recently (and some of you won a copy of her books!). As you see from just below, she's no stranger to publishing and writing and I had the best time catching up with her and talking books. So without further ado, here's Susanne 🙂
Born and raised in Toowoomba, Susanne is an Australian author of contemporary and suspense romances set in exciting and often exotic locations, and rural romance set in Australia. She adores travel with her husband, both at home and overseas, and weaves stories around the settings and people she encounters.
Her heroes have to be pretty special to live up to her real life hero. He saved her life then married her.
Susanne is a member of the RWA and was a finalist in their 2011 Emerald Award. She placed third in the 2015 Pan Macmillan short story competition with Chez Romeo. Mentoring aspiring writers, and working as a freelance editor keeps her off the street! She loves connecting with readers and fellow writers.
What are you currently reading?
I've recently discovered Cecilia Grant's Blackshear family chronicles. I've read two of them and have three to go. I still have to read Dragonfly in Amber before season 2 of Outlander begins next month!
What was the last book you bought?
The Shadowy Horses by Susanna Kearsley. A Scottish time slip novel recommended by Anna Campbell. Are you seeing a theme to my current reading patterns? 😉
Do you prefer to read books in print or electronically?
While I love the feel and smell of a new print book, my reality is reading late at night in bed with minimal light so I most often read on my iPad.
If I was to walk into your house right now, what would your bookshelves look like? Do you have an organisation system (genre, colour, author…) or are you just happy to go with the flow?
My study has bookshelves from floor to ceiling, with books, two or three deep, and is organized in a system known only to me. I'm trying to cull, but for a bibliophile hoarder, it's very difficult!
How often do you read?
Every night.
Describe what you would expect to find in your dream book?
Satisfaction. I want to be carried away to a different place, maybe a different time or world, and to go on a journey with the characters. I want them to feel so real, I fall asleep thinking/worrying about them and agonizing over what happens next!
How do you choose what to read next?
According to my mood when I'm ready to begin a new book.
So you've started a book and discover it's not for you. Are you more likely to discard it or finish it?
Once upon a time I would always finish a book. I worked on the philosophy that if it was good enough to have been published, it must have something worth my investment of time. Now, I give a book a fair shot but if it hasn't got me within a couple of chapters, I'll move on.
If you could read any book again, for the first time, what book would you choose?
Shadows of the Wind by Carlos Ruiz Zafon. The image of the library of lost books sucked me in from the start. I'd love to recapture that buzz of excitement as I read the first couple of pages.
And one day I will go to Barcelona and look for that library. I'm sure it exists!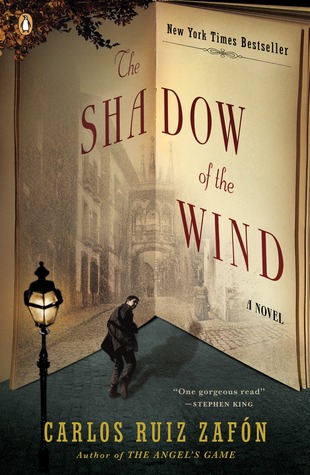 What is about books that appeals to you so much? What is your favourite part about reading?
Living other lives. Great stories fire my imagination and add a different layer to my world.
Was there any particular book that inspired you to start writing?
The cumulative effect of reading 'forever' and the self-imposed challenge to see if I could write a book is responsible for my decision. I'm not into 'how to write' type books but great authors have given me so much pleasure over my lifetime that I want to give some of that pleasure to others.
Do you have any advice to other writers out there?
There's plenty of advice about 'just write because you can't edit a blank page' and 'turn off the inner editor' etc., all of which is accurate. But one thing I learned the first time I pushed myself every day for long hours to meet a crazy deadline is that you have to make time to refill your own creative well, and make time to live your own life.
And lastly, what are you currently working on?
Book 3 in Hearts of the Outback. Sarah Tait is a horse whisperer and Caleb Richards is a detective in Mt Isa. They meet while an arrest is being made!
Following this, I have an idea for a standalone single title about Ram Chandra, the Snake Man. It will involve a lot of research!
If you'd like to learn more about Susanne Bellamy visit the following social media sites: