Now Hosted by Book Date
Last week was a really rough week for me. I've taken a set back in the healing of my back and I'm in a lot of pain once again. While I try and working things out once more with it, I may not be online as much as I have been. I've half way through at least six reviews that I had hope to put up this week and next, but I'm not sure I'll get one or two of them up right now.
Saturday was a massive bookish day for me as I hosted a local author signing that I organised at work with the incredibly talent crime thriller author Jaye Ford. It was great to catch up with Jaye, and despite not being a huge signing, I was really happy with the signing sales. Following the signing at work, we both headed to the local library for another local author, this time a YA author, Kaz Delaney's book launch of her latest release 'The Reluctant Jillaroo'. If my back settles down tomorrow, I'll try and get a wrap up post of each up asap.
I did manage to read two books last week, but neither were books I had said I would be reading, so most of this post will be the same as last week's as I try and finish the three books I was reading last week.
Currently Reading:
A Bunyip Bay novel

Frankie and Simone are sisters and best friends. Could a new man in town drive a wedge between them for the first time ever?

Cafe owner Frankie has been unlucky in love all her life. It's hard in a small town like Bunyip Bay to meet prospective partners. Her sister, Simone, lost the love of her live years before and is now devoted to raising their two teenage girls, leaving little time for romance. When Frankie is kissed by a handsome stranger who calls her Simone, it's a case of mistaken identity – but who is this man and how does he know Simone?

Logan Knight is in town to meet up with a woman he has met online. Although raised on a farm with his brother Angus, he has travelled the world as a journalist and is now looking forward to meeting a girl and settling down. The girl in the cafe was an amazing kisser – but not the one he thought he was meeting!

Reclusive farmer Angus wants nothing to do with Logan's plans for improving the property's finances and finding a partner – until he meets the sisters at a wedding. Who is attracted to whom? More importantly, can Frankie and Simone sort out their feelings for the two brothers without destroying their very close bond.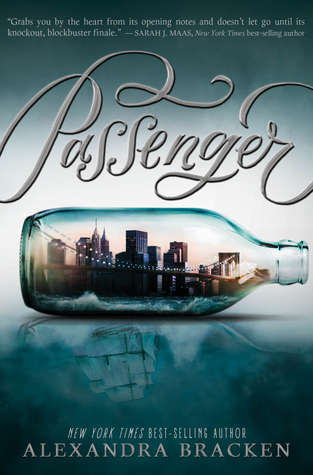 passage, n.
i. A brief section of music composed of a series of notes and flourishes.
ii. A journey by water; a voyage.
iii. The transition from one place to another, across space and time.

In one devastating night, violin prodigy Etta Spencer loses everything she knows and loves. Thrust into an unfamiliar world by a stranger with a dangerous agenda, Etta is certain of only one thing: she has traveled not just miles but years from home. And she's inherited a legacy she knows nothing about from a family whose existence she's never heard of. Until now.

Nicholas Carter is content with his life at sea, free from the Ironwoods—a powerful family in the colonies—and the servitude he's known at their hands. But with the arrival of an unusual passenger on his ship comes the insistent pull of the past that he can't escape and the family that won't let him go so easily. Now the Ironwoods are searching for a stolen object of untold value, one they believe only Etta, Nicholas' passenger, can find. In order to protect her, he must ensure she brings it back to them— whether she wants to or not.

Together, Etta and Nicholas embark on a perilous journey across centuries and continents, piecing together clues left behind by the traveler who will do anything to keep the object out of the Ironwoods' grasp. But as they get closer to the truth of their search, and the deadly game the Ironwoods are play­ing, treacherous forces threaten to sep­arate Etta not only from Nicholas but from her path home . . . forever.
Late on a hot summer night in 1965, Charlie Bucktin, a precocious and bookish boy of thirteen, is startled by an urgent knock on the window of his sleep-out. His visitor is Jasper Jones, an outcast in the regional mining town of Corrigan.

Rebellious, mixed-race and solitary, Jasper is a distant figure of danger and intrigue for Charlie. So when Jasper begs for his help, Charlie eagerly steals into the night by his side, terribly afraid but desperate to impress. Jasper takes him to his secret glade in the bush, and it's here that Charlie bears witness to Jasper's horrible discovery.

With his secret like a brick in his belly, Charlie is pushed and pulled by a town closing in on itself in fear and suspicion as he locks horns with his tempestuous mother; falls nervously in love and battles to keep a lid on his zealous best friend, Jeffrey Lu.

And in vainly attempting to restore the parts that have been shaken loose, Charlie learns to discern the truth from the myth, and why white lies creep like a curse.

In the simmering summer where everything changes, Charlie learns why the truth of things is so hard to know, and even harder to hold in his heart.

Hoping to read this week:

A sparkling, highly entertaining romantic comedy about beloved country girl group the Darling Songbirds, from the bestselling author of Eliza's Gift.

Love is a country song waiting to happen . . .

Adele, Molly and Lana are the Darling Songbirds, the country-singing sisters who gained fame in their teens for their smart lyrics and sweet harmonies. But when their father died suddenly on the eve of their big tour, the group acrimoniously broke up.

Now, eleven years on, Adele arrives back in Darling Bay, the sleepy gold-rush town founded by her great-grandfather. For Uncle Hugh has bequeathed to the sisters his hotel and bar the Golden Spike.

Except this is not the welcoming saloon Adele remembers from her childhood. The building is a ruin, the business is broke and customers are scarce.

Add into the mix Nate Houston – the handsome, guitar-playing barman who had always believed he would be the next owner – and Adele has one potent cocktail on her hands.

She needs Molly and Lana now more than ever – but the heartache still runs deep. Can a rundown saloon in a sleepy town finally offer the sisters a way back home?

The Darling Songbirds is the first in a delightful romantic comedy series, filled with music, laughter and one sexy cowboy.
Just Finished:
Last week on the blog:
Let's Talk Books With Susanne Bellamy, Author of Second Chance Love
Local Author Book Signing: Jaye Ford
REVIEW: 'Darkest Place' by Jaye Ford
It's Monday! What Are You Reading?
What are you planning on reading this week? Let me know in the comments below 🙂