I have a confession to make. Fiction involving royals is my weakness. Which is odd, because although I know who the English and Danish royals are, I don't particularly follow their antics or anything. But add some royals into a fictional story and you have me at hello… Not even kidding.
The Princess Diaries by Meg Cabot (YA) (Series)
Suddenly Royal by Nicole Chase (YA) (Series)
The Selection Series by Keira Cass (YA) (Series)
Cinder by Marissa Meyer (YA) (Series)
To Marry a Prince by Sophie Page
Heir Untamed by Danielle Bourdon (Series)
The Royal We by Heather Cocks and Jessica Morgan
Once Upon A Prince by Rachel Hauck (Series)
The Runaway Princess by Hester Browne
Red Queen by Victoria Aveyard (YA) (Series)
Finnkin of The Rock by Melina Marchetta (Series) (REVIEWED 4.5/5 STARS)
Throne of Glass by Sarah J Maas ( YA) (Series)
The False Prince by Jennifer A. Neilson
The Heir and the Spare by Emily Albright
The False Princess by Eillis O'Neal
Royal Date by Sariah Wilson
Captive Prince by C.S. Pacat
The Secret Prince by Justine Lewis (REVIEWED 4/5 STARS)
Helios Crowns His Mistress by Michelle Smart
Carrying the King's Pride by Jennifer Hayward
Prince of Scandal by Annie West
The Sheik's Princess Bride by Annie West
The Jewel by Amy Ewing (Ya) (series)
~*~*~*~*~*~*~
Mia Thermopolis is pretty sure there's nothing worse than being a five-foor-nine, flat-chested freshman, who also happens to be flunking Algebra.

Is she ever in for a surprise.

First Mom announces that she's dating Mia's Algebra teacher. Then Dad has to go and reveal that he is the crown prince of Genovia. And guess who still doesn't have a date for the Cultural Diversity Dance?
Samantha Rousseau is used to getting her hands dirty. Working toward a master's degree in wildlife biology while helping take care of her sick father, she has no time for celebrity gossip, designer clothes, or lazy vacations. So when a duchess from the small country of Lilaria invites her to dinner, Samantha assumes it's to discuss a donation for the program. The truth will change the course of her life in ways she never dreamed.

Alex D'Lynsal is trying to keep his name clean. As crown prince of Lilaria, he's had his share of scandalous headlines, but the latest pictures have sent him packing to America and forced him to swear off women—especially women in the public eye. That is, until he meets Samantha Rousseau. She's stubborn, feisty, and incredibly sexy. Not to mention heiress to an estate in his country, which makes her everyone's front-page news.

While Sam tries to navigate the new world of politics and wealth, she will also have to dodge her growing feelings for Alex. Giving in to them means more than just falling in love; it would mean accepting the weight of an entire country on her shoulders.
For thirty-five girls, the Selection is the chance of a lifetime. The opportunity to escape the life laid out for them since birth. To be swept up in a world of glittering gowns and priceless jewels. To live in a palace and compete for the heart of gorgeous Prince Maxon.

But for America Singer, being Selected is a nightmare. It means turning her back on her secret love with Aspen, who is a caste below her. Leaving her home to enter a fierce competition for a crown she doesn't want. Living in a palace that is constantly threatened by violent rebel attacks.

Then America meets Prince Maxon. Gradually, she starts to question all the plans she's made for herself—and realizes that the life she's always dreamed of may not compare to a future she never imagined.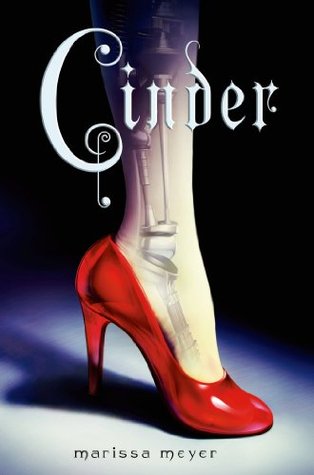 Humans and androids crowd the raucous streets of New Beijing. A deadly plague ravages the population. From space, a ruthless lunar people watch, waiting to make their move. No one knows that Earth's fate hinges on one girl.

Cinder, a gifted mechanic, is a cyborg. She's a second-class citizen with a mysterious past, reviled by her stepmother and blamed for her stepsister's illness. But when her life becomes intertwined with the handsome Prince Kai's, she suddenly finds herself at the center of an intergalactic struggle, and a forbidden attraction. Caught between duty and freedom, loyalty and betrayal, she must uncover secrets about her past in order to protect her world's future.
Can an ordinary girl survive preparations for her very own Royal Wedding? 

Bella Greenwood isn't a fairytale girl. If pushed, she'd probably tell you that her perfect wedding would involve a handful of close friends and family. But as she's never met anyone she'd like to marry, it is a moot point. Until, in a midnight garden, Bella is helped out of an embarrassing situation by a tall, dark, handsome man with laughing eyes. Suddenly her life changes for ever, because the man is the world's most eligible bachelor—Prince Richard, heir to the throne. Richard sweeps her off her feet, and before she knows, it they're engaged—which is when Bella's problems really begin. Suddenly she is public property, and as if it isn't enough to have her every move watched—while also learning to curtsy and negotiating the etiquette of how to address her future mother-in-law—she soon finds herself embroiled in bridesmaid politics, a royal hen night, and a wedding dress controversy that causes a national scandal.

Desperate for work to avoid eviction from her Seattle apartment, photographer Chey Sinclair accepts a rare opportunity to travel abroad and photograph Latvala Royalty. Encountering the Royals for the first time, Chey experiences an instant attraction to Mattias, second in line to the throne. He's charming, confident—and taken.

During a horseback ride to clear her head, Chey finds herself in a scuffle with Sander Fisk, head of security. Rugged, determined and sharp tongued, Sander is infuriating as well as intriguing.

Faced with conflicting emotions and a mystery unfolding in the castle, Chey must decide between men: a Prince of Latvala, or an arrogant rogue.

She discovers the hard way that this particular fairy tale was more than she ever bargained for.

"I might be Cinderella today, but I dread who they'll think I am tomorrow. I guess it depends on what I do next."

American Rebecca Porter was never one for fairy tales. Her twin sister, Lacey, has always been the romantic who fantasized about glamour and royalty, fame and fortune. Yet it's Bex who seeks adventure at Oxford and finds herself living down the hall from Prince Nicholas, Great Britain's future king. And when Bex can't resist falling for Nick, the person behind the prince, it propels her into a world she did not expect to inhabit, under a spotlight she is not prepared to face.

Dating Nick immerses Bex in ritzy society, dazzling ski trips, and dinners at Kensington Palace with him and his charming, troublesome brother, Freddie. But the relationship also comes with unimaginable baggage: hysterical tabloids, Nick's sparkling and far more suitable ex-girlfriends, and a royal family whose private life is much thornier and more tragic than anyone on the outside knows. The pressures are almost too much to bear, as Bex struggles to reconcile the man she loves with the monarch he's fated to become.

Which is how she gets into trouble.

Now, on the eve of the wedding of the century, Bex is faced with whether everything she's sacrificed for love-her career, her home, her family, maybe even herself-will have been for nothing.

Once Upon a Prince, the first novel in the Royal Wedding series by bestselling author Rachel Hauck, treats you to a modern-day fairy tale.

Susanna Truitt never dreamed of a great romance or being treated like a princess—just to marry the man she has loved for twelve years. But life isn't going according to plan. When her high-school-sweetheart-turned-Marine-officer breaks up instead of proposing, Susanna scrambles to rebuild her life.

The last thing Prince Nathaniel expects to find on his American holiday to St. Simon's Island is the queen of his heart. A prince has duties, and his family's tense political situation has chosen his bride for him. When Prince Nathaniel comes to Susanna's aid under the fabled Lover's Oak, he is blindsided by love.

Their lives are worlds apart. He's a royal prince. She's a ordinary girl. But everything changes when Susanna receives an invitation to Nathaniel's coronation. It's the ultimate choice. His kingdom or her heart? God's will or their own?

If Amy Wilde's new boyfriend, Leo, treats her like a queen, that's because he's secretly a prince himself: Leopold William Victor Wolfsburg of Nirona, the ninth most eligible royal bachelor in the world. Amy soon discovers that dating an heir to a throne has many charms—intimate dinners, glittering galas, and a dazzling new wardrobe with tiaras to match. But there are also drawbacks: imagine the anxiety of meeting your boyfriend's parents multiplied by "riding in a private jet," "staying in a castle," and "discussing the line of succession over lunch." Not to mention the sudden press interest in your very un-royal family. Amy would do anything for Leo, but is finding her Prince Charming worth the price of losing herself?

This is a world divided by blood – red or silver.

The Reds are commoners, ruled by a Silver elite in possession of god-like superpowers. And to Mare Barrow, a seventeen-year-old Red girl from the poverty-stricken Stilts, it seems like nothing will ever change.

That is, until she finds herself working in the Silver Palace. Here, surrounded by the people she hates the most, Mare discovers that, despite her red blood, she possesses a deadly power of her own. One that threatens to destroy the balance of power.

Fearful of Mare's potential, the Silvers hide her in plain view, declaring her a long-lost Silver princess, now engaged to a Silver prince. Despite knowing that one misstep would mean her death, Mare works silently to help the Red Guard, a militant resistance group, and bring down the Silver regime.

But this is a world of betrayal and lies, and Mare has entered a dangerous dance – Reds against Silvers, prince against prince, and Mare against her own heart…

Finnikin of the Rock and his guardian, Sir Topher, have not been home to their beloved Lumatere for ten years. Not since the dark days when the royal family was murdered and the kingdom put under a terrible curse. But then Finnikin is summoned to meet Evanjalin, a young woman with an incredible claim: the heir to the throne of Lumatere, Prince Balthazar, is alive.

Evanjalin is determined to return home and she is the only one who can lead them to the heir. As they journey together, Finnikin is affected by her arrogance . . . and her hope. He begins to believe he will see his childhood friend, Prince Balthazar, again. And that their cursed people will be able to enter Lumatere and be reunited with those trapped inside. He even believes he will find his imprisoned father.

But Evanjalin is not what she seems. And the truth will test not only Finnikin's faith in her . . . but in himself.

After serving out a year of hard labor in the salt mines of Endovier for her crimes, 18-year-old assassin Celaena Sardothien is dragged before the Crown Prince. Prince Dorian offers her her freedom on one condition: she must act as his champion in a competition to find a new royal assassin.

Her opponents are men-thieves and assassins and warriors from across the empire, each sponsored by a member of the king's council. If she beats her opponents in a series of eliminations, she'll serve the kingdom for four years and then be granted her freedom. Celaena finds her training sessions with the captain of the guard, Westfall, challenging and exhilirating. But she's bored stiff by court life. Things get a little more interesting when the prince starts to show interest in her… but it's the gruff Captain Westfall who seems to understand her best.

Then one of the other contestants turns up dead… quickly followed by another. Can Celaena figure out who the killer is before she becomes a victim? As the young assassin investigates, her search leads her to discover a greater destiny than she could possibly have imagined.

The False Prince is the thrilling first book in a brand-new trilogy filled with danger and deceit and hidden identities that will have readers rushing breathlessly to the end.

In a discontent kingdom, civil war is brewing. To unify the divided people, Conner, a nobleman of the court, devises a cunning plan to find an impersonator of the king's long-lost son and install him as a puppet prince. Four orphans are recruited to compete for the role, including a defiant boy named Sage. Sage knows that Conner's motives are more than questionable, yet his life balances on a sword's point—he must be chosen to play the prince or he will certainly be killed. But Sage's rivals have their own agendas as well.

As Sage moves from a rundown orphanage to Conner's sumptuous palace, layer upon layer of treachery and deceit unfold, until finally, a truth is revealed that, in the end, may very well prove more dangerous than all of the lies taken together.

An extraordinary adventure filled with danger and action, lies and deadly truths that will have readers clinging to the edge of their seats.

Family can be complicated. Especially when skeletons from the past pop up unexpectedly. For American Evie Gray, finding out her deceased mother had a secret identity, and not one of the caped crusader variety, was quite the surprise. Evie's mom had a secret life before she was even born, one that involved tiaras.

In this modern day fairytale, Evie is on a path to figure out who her mom really was, while discovering for herself what the future will hold. Charged with her late mother's letters, Evie embarks on a quest into her past. The first item on the list is to attend Oxford, her mom's alma mater. There, Evie stumbles upon a real life prince charming, Edmund Stuart the second Prince of England, who is all too happy to be the counterpart to her damsel in distress.

Evie can't resist her growing attraction to Edmund as they spend more time together trying to unravel the clues her mother left behind. But, when doubts arise as to whether or not Edmund could ever be with an untitled American, what really ends up unraveling is Evie's heart. When Evie uncovers all the facts about her mom's former life, she realizes her mom's past can open doors she never dreamed possible, doors that can help her be with Edmund. But, with everything now unveiled, Evie starts to crack under the pressure of new family responsibilities and the realization that her perfect prince may want her for all the wrong reasons.

Princess and heir to the throne of Thorvaldor, Nalia's led a privileged life at court.  But everything changes when it's revealed, just after her sixteenth birthday, that she is a false princess, a stand-in for the real Nalia, who has been hidden away for her protection.  Cast out with little more than the clothes on her back, the girl now called Sinda must leave behind the city of Vivaskari, her best friend, Keirnan, and the only life she's ever known.

Sinda is sent to live with her only surviving relative, an aunt who is a dyer in a distant village. She is a cold, scornful woman with little patience for her newfound niece, and Sinda proves inept at even the simplest tasks.  But when Sinda discovers that magic runs through her veins – long-suppressed, dangerous magic that she must learn to control – she realizes that she can never learn to be a simple village girl.

Returning to Vivaskari for answers, Sinda finds her purpose as a wizard scribe, rediscovers the boy who saw her all along, and uncovers a secret that could change the course of Thorvaldor's history, forever.

This Cinderella didn't plan on a prince . . .

Kat MacTaggart is a girl who has a plan for everything—including her holiday ski trip to Monterra with her best friend. Everything is going according to plan until she finds herself careening out of control down a mountainside and being rescued by a guy who looks like Superman's hotter Italian cousin.

HRH Prince Nico is intrigued by the woman he saved on the slopes and her refusal to date him. He offers Kat a deal—let him show her his country and he'll pay her to write articles that will help Monterra's tourism industry. Kat agrees, but given her past and lingering distrust of men, she has one condition—absolutely no kissing.

Thanks to the claims of a jealous British noblewoman and the schemes of a meddling paparazzo, Kat's rule doesn't seem to be a problem at first. But the more Kat gets to know Nico and the people around him, the harder it is to remember her keep-your-distance plan. Should she stick to it or risk everything for a chance at happily ever after?

Damen is a warrior hero to his people, and the rightful heir to the throne of Akielos, but when his half brother seizes power, Damen is captured, stripped of his identity, and sent to serve the prince of an enemy nation as a pleasure slave.

Beautiful, manipulative and deadly, his new master Prince Laurent epitomises the worst of the decadent court at Vere. But in the lethal web of Veretian politics, nothing is as it seems, and when Damen is caught up in a dangerous play for the throne, he must form an alliance with Laurent to survive and save his country.

For Damen, there is just one rule: he must never reveal his true identity. Because the one man Damen needs is the one man who has more reason to hate him than anyone else . . . 

Prince Alexander Davros is on the run. From the press, from his bodyguards, and from a secret that threatens his position as heir to his country's throne …

Journalist Maddie Lawson is determined to prove herself capable of covering hard news. She's fuming when her boss tells her to investigate reports of a European prince holidaying undercover in Sydney. As far as Maddie is concerned, Alexander Davros is a freeloading playboy.

When their accidental meeting results in a media frenzy, Alex is convinced Maddie's just been using him for a story. And Maddie can't believe the cute surfer she kissed was actually royalty. With her professional reputation in tatters, Maddie has no choice but to accept the royal family's offer to travel to Europe to write a profile on the Prince.

While furious that his father has arranged for Maddie to visit, Alex is forced to keep her close or risk having her uncover his secret. And as they spend more time together, the attraction between them grows. But if Maddie discovers the truth, she'll have to choose between the career she's worked so hard for and the man she's just getting to know …

The heir's choice: mistress or wife?

From the depths of the palace comes whispers of a threat to Agon. It's public knowledge that Crown Prince Helios is bound to marry the Princess of Monte Cleure but will the discovery of his secret lover, Amy Green, shatter the kingdom?

An exclusive source has revealed that Amy has ended their affair – leaving Helios furious. And we all know he's not a man to be denied! Legally, Helios must wed someone of pure royal blood, so the question remains: will he do as duty commands, or will he risk his crown to marry his mistress?

A marriage for the monarch

One last New York night with Sofia Ramirez is all Prince Nikandros Constantinides allowed himself before returning to Akathinia, after a dreadful accident took his brother's life. But before the royal rebel is crowned, Nik discovers that he didn't leave Sofia behind alone!

In a baby's heartbeat, Nik turns Sofia's world upside down and whisks her away to his Mediterranean kingdom. Dissolving a politically perfect engagement is not what Nik — or his country — had in mind, but this proud prince will do whatever it takes to legitimise his new rule…with a wife and child!

Ruling prince…Raul, Prince of Maritz, is furious that an archaic law is forcing him to wed. But scandal and unrest has dogged this prince for years, and a marriage to recently discovered princess Luisa Hardwicke will help bring stability to the monarchy…reluctant princess Only Luisa is an outspoken, mud-splattered farm-girl, who isn't going to come quietly! Even as she's reluctantly transformed into polished perfection, Luisa challenges Raul at every turn – and he finds himself anticipating their wedding night with an excitement he never imagined he'd feel…

Wanted: royal bride and mother

For Sheikh Tariq of Al-Sharath, one miserable marriage was enough. With a kingdom to rule, he has no time—or wish—to find a bride, but his children need a mother.

Could Princess Samira of Jazeer be the answer? Samira has sampled passion, and it left a bad taste. With the knowledge she can't have the children she's always wanted, Samira steps into Tariq's ready-made family. Her only condition? No sex!

Samira thought royal duties and her love for Tariq's children would fill the hole in her heart, but a craving is building that only the sheikh's touch can cure… 

Violet Lasting is no longer a human being. Tomorrow she becomes Lot 197, auctioned to the highest royal bidder in the Jewel of the Lone City. Tomorrow she becomes the Surrogate of the House of the Lake, her sole purpose to produce a healthy heir for the Duchess. Imprisoned in the opulent cage of the palace, Violet learns the brutal ways of the Jewel, where the royal women compete to secure their bloodline and the surrogates are treated as disposable commodities. Destined to carry the child of a woman she despises, Violet enters a living death of captivity – until she sets eyes on Ash Lockwood, the royal Companion. Compelled towards each other by a reckless, clandestine passion, Violet and Ash dance like puppets in a deadly game of court politics, until they become each other's jeopardy – and salvation.