ANZAC Day is a special day for me and one that I refuse to work each year. Usually I make it to at least one service (usually the dawn service), but have been known to go to three in the one day before. Recently my family were discussing the logistics of who was going to what service and we discovered that my ten-year-old sister didn't have a clue what we were talking about. I sat her down and we talked about it and while she knows a bit about it now, I know she's still a bit confused by the whole thing.
The story of the ANZACS landing at Gallipoli is not an easy story for kids to understand. Nor is it one that is easy for adults to talk about in great detail as we don't want to burst their innocence or tell them about dark and disturbing events no matter how heroic they may seem now. So after sitting my sister down, I made a list of all the children ANZAC books that I have (I purchased a lot last year and all the new ones this year because its something I'm passionate about) and have compiled a list of the following titles that might help you and your kids to understand the ANZAC legend and story a bit more.
** Click on the book's cover to learn more about the book via goodreads and/or the publisher or booktopia**
It was 1914 and Dusty and Bluey are headed for adventure. They were ANZACS, on their way to the Great War.

Award-winning author Kerry Greenwood explores the themes of bravery, hardship, humour, fear and above all, mateship. The story of Bluey and Dusty is a story of family and friendship. It is the story of Gallipoli.

Beautifully illustrated in water colour by Annie White, this book showcases Annie's deft touch in revealing human emotions and expression.
REVIEW: http://wp.me/p3yY1u-kk
Many books have been written about the battles of Gallipoli; the men who went to war and what they faced, the letters, and the tears of those left behind. But this is a book about Gallipoli, the place, and what happened on Gallipoli Beach from April – December 1915. With beautiful and painterly illustrations by Bruce Whatley this is a book that explores the beach where the battles took place.

In focusing on the actual place of war, the book will also examine many other aspects of WW1, from the soldiers and the conditions they fought in, to the civilians at home. This is more than a book about ANZACS; this is a book about and for all of the nationalities who fought at that cove, not matter what side they were on.

REVIEW: http://wp.me/p3yY1u-Tm

In 1915 Banjo Paterson wrote as an open letter to the troops a poem he titled We're All Australians Now'
'Australia takes her pen in hand,
to write a line to you,
to let you fellows understand,
How proud we are of you.'
Illustrated by Mark Wilson (A DAY tO REMEMBER by Jackie French), this moving and beautiful picture book follows in the tradition of previous A & R classics such as MULGA BILL'S BICYCLE and tHE MAN FROM SNOWY RIVER and is a timely contribution to our WWI Centenary publishing program.
REVIEW: http://wp.me/p3yY1u-BE
Timed for the centenary of the Gallipoli landing, this powerful story about a boy and his grandfather will help even the very young understand the significance of ANZAC Day. 'My granddad says there are two types of days: those you want to remember and those you want to forget.' A young boy visits his granddad and thinks about the important days in his life: his first day of school, playing soccer with his team, the day his baby sister was born. Yet through the illustrations the reader sees a parallel story of the grandfather's experiences at war: wearing his brand-new soldier's uniform, with his fellow diggers in the field, looking at a photo of the baby he's never met. With illustrations from two extraordinary new talents, Isobel Knowles and Benjamin Portas, this powerful story from author Kerry Brown will help even young children understand the significance and importance of our national days of remembrance.

REVIEW: http://wp.me/p3yY1u-IO
A mother and daughter at home in Australia around the time of World War 1 are baking Anzac biscuits and the mother is explaining their history. This is interspersed with scenes and reports of what it was like to be a young soldier [the child's father] at the battle site. Strong emotional impact , understandable and useful for approx 5-12 year olds.

REVIEW: http://wp.me/p3yY1u-Td
In the middle of the night, in the middle of the
winter, in the middle of a war, a puppy was born.

This fictional story was inspired by the story of Freda, a
Harlequin Great Dane and mascot of the NZ Rifle Brigade
during World War 1. The ANZAC Puppy is a simple story about
the reality of war, hardship, friendship and love.

REVIEW: http://wp.me/p3yY1u-BH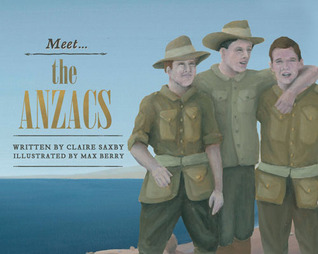 A picture book series about the extraordinary men and women who have shaped Australian history. ANZAC stands for Australian and New Zealand Army Corps. It is the name given to the troops who fought in the Battle of Gallipoli in World War I. The name ANZAC is now a symbol of bravery and mateship. This is the story of how the ANZAC legend began.

REVIEW: http://wp.me/p3yY1u-Bx
To James, Alec Campbell was a hero. He was right. The old man, the last living ANZAC, and all of the Australian and New Zealand soldiers who fought at Gallipoli, were heroes — everyone's heroes.

Alec, who died in May 2002 at the age of 103, enlisted in 1915 when he was just 16. He had put his age up to 18 in order to be accepted by the army and agreed to fight at the front, wherever he was needed. Heroic indeed!

James was very fortunate to meet Alec Campbell and find out about his experiences. He gives us a special view of this humble and remarkable man, the year before he died. Based on the true story of a small boy's visit to meet Alec Campbell in the year 2001. 

REVIEW: http://wp.me/p3yY1u-Bz
Anzac Day is the day when we remember and honour Anzac traditions down the ages, from the first faltering march of wounded veterans in 1916 to the ever increasing numbers of their descendants who march today. Containing reference to the many places the ANZACs have fought, and the various ways in which they keep the peace and support the civilians in war-torn parts of the world today, this is a picture book that looks not only at traditions, but also the effects of war.
REVIEW: http://wp.me/p3yY1u-kc
A moving and powerful story about the meaning of Remembrance Day, drawing on the Australian and Turkish battle at Gallipoli

On the 100th anniversary of the start of World War I, David Metzenthen asks, "What is the true meaning of remembering?" This is a powerful and moving picture book for older readers about the "one minute's silence" observed in Australia on Remembrance Day, and what Gallipoli means to Australians in this context. By showing both sides of the conflict—Aussie and Turk—he encourages readers to think about all those who have fallen, and by using this iconic battle—one of the few to have brought two nations closer together—he suggests another perspective on Gallipoli. Michael Camilleri's extraordinary illustrations enhance the reader's experience.

Review: http://wp.me/p3yY1u-RQ
On Anzac Day in Australia, people of all ages and nationalities gather at war memorials for the dawn service and line city streets for the march. On this national day of mourning and commemoration, they honour the men and women who returned from war and the sons, fathers, grandfathers and good mates who did not.
Review: http://wp.me/p3yY1u-Sk
A young soldier far away from home, a boy orphaned by war, and the stray dog that brings them together.

A powerful story of the Somme from one of Australia's most acclaimed children's authors.
Review: http://wp.me/p3yY1u-SO
A picture book about a little goat and his perseverance and determination to find love. This is not a traditional ANZAC story but an engaging story that mirrors the qualities of our original ANZACs and will encourage discussions in the classroom and home.

Being a prize in a two-up game on ANZAC Day gave this young goat a name; but his undertakings to become part of a family are shunned until an unlikely visitor arrives. Anzac, as his name suggests is brave, persistent and resilient when facing adversity. The visual story contains many clues to how Australians and New Zealanders commemorate ANZAC Day with an author's note on the last page. Teachers' notes are available and include subjects such as what ANZAC Day means, important figures of WW1, animals of war (working and mascot), friendship, and mateship.

ANZAC is a fun but thought provoking picture book intended for children 5-10years, easy reading.
Review: http://wp.me/p3yY1u-T4