Published: 6th March 2008
Publisher: Headline Review
Pages: 512
Format: Paperback (from the library)
RRP: $29.99
2.5/5 Stars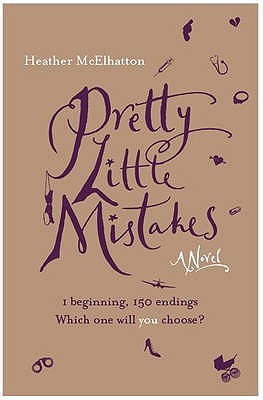 It all begins after high school. Nothing's simple anymore. Should you do the right thing and go to college? Or why not walk on the wild side and travel? Whatever you decide, just remember, PRETTY LITTLE MISTAKES isn't like life: when you screw up, you can go back and start all over again…

With more than 150 possible endings sewn into this startlingly fresh and original debut, you can experience lives taken to the depths of misery, or the heights of happiness and fulfilment. Because doesn't everyone wonder What if…?
I was trawling my local library earlier this week and stumbled across this book. The drap cover (which is more gold in person that this image) and purple writing didn't stand out in the colourful shelves and I'm not really sure what drew it to me initially. But upon discovering it was a choose your own adventure story for adults, I simply had to give it a go.
No two persons ever read the same book.

–Edmund Wilson
Pretty Little Mistakes is simply put a choose your own adventure type story for adults. There is one beginning and 150 possible endings, and the story you read is completely up to your own decisions. In part this book is depressing, as many of the lives I discovered within the covers, are humourless and well a little bit disappointing, but hey I guess that's life and why the book is called Pretty Little Mistakes in the first place. There were a lot of options though – endless ones really – and the multiple adventures I took were a lot of fun in hindsight because of how crazy and different they were to my real life experiences.
In my first life I travelled Europe disastrously, before getting a call from my mum to return home because she was sick, and my plane literally falling out of the sky on its homeward journey. In another I found myself accidentally discovered by a talent agency, before being cast in a Hollywood movie that made me a superstar – which I all gave up for my lesbian jewellery making lover sometime later before moving to Galway. Another life I was a painter set up for life after a tragic shooting at a grocery store … oh and I lived to a 102 in this one. Another I joined the circus, visited Germany, fell in love. The possibilities for this book are endless.
A reader lives a thousand lives before he dies. The man who never reads lives only one.

– George R. R. Martin
The writing isn't fantastic in this book. But then again, I've never read a book for adults with a second person narrative where the reader chooses their own story, so I don't really have anything to compare it too either. Yes, I read Andy Griffith's earlier books when I was a child and loved the options and craziness of the story, but those books are written for children and thus work rather differently in this case in terms of style and content. I do want to commend McElhatton however on constructing this book, as I don't image putting this book together would have been an easy task.
In terms of the writing itself, there's a lot of telling (obviously – it's second person) and not a lot of description. With each section ranging from half-a-page to at most a page-and-half, there isn't a lot of room for character or plot development. It does however make it a quick read, as each life can be read in roughly five minutes depending on the choices you personally make.
What's more the chick-lit aspect of this book will appeal to many readers, but it's not for the faint hearted; there are just as many references to genitalia, sex, drugs and random one-night-stands in this book that make it outlandish and over the top. But then again what do you really expect from a choose your own adventure book? The real world is often boring in comparison.
A book is a version of the world. If you do not like it, ignore it or offer your own version in return.

–Salman Rushdie
All in all, Pretty Little Mistakes is a little book of fun. In many ways it encompasses the notion that life isn't about the destination, but the journey you take getting there as it embodies the little mistakes we make and our stories develop from there. It's a book you can live your what-if's through without having to leave the comfort of your own lounge or reading chair.
Pretty Little Mistakes isn't a book that made me think particularly hard, or one that will stay with me for a long time. It was however a bit of fun and a lovely little ode to my childhood and the style of books I loved back then. Despite not being my favourite book by a long stretch or even a particularly profound one, this book does leave you with one clear and valuable message: The choice is yours. The Future is yours. Make of it what you will.
To learn more about Heather McElhatton, visit the following social media sites:
To purchase a copy of the book visit the following, visit the following online retailers: