Today I am super exited to introduce you to today's guest, Nicola Muller. I first meet Nicola on Monday of my second week of University as we both turned up to a class that no longer had any lecturers. For the lecture's duration we sat and talked and discovered we had a lot in common (including a degree and a number of classes) and as they say, the rest is history. Not only is Nicola a close friend of mine, she is also a fantastic writer – she's writing a fantasy series that you will all die to get your hands on one day -, editor and just all around budding book enthusiast.  Recently Nicola even started blogging about her writing and books over at Wordledger … after a few not so subtly hints and one drunken Fictionally Yours Melbourne After Party. I've been nagging Nicola to be part of this feature for awhile now, and she's finally agreed (aka I've finally been able to find some spare time in her busy schedule) to chat about everything book related here today with us all, so with the warmest welcome I can possibly give, I welcome Nicola to the blog and look forward to hearing what she has to say!
What are you currently reading?
I tend to read about five books at once, but the main ones at the moment are The Gargoyle by Andrew Davidson, I am Malala, and Kushiel's Dart by Jacqueline Carey (this one is an old favourite, which I'm rereading for the first time since high school).
What's the last book you bought?
Frankie by Shivaun Plozza
Do you prefer to read books in print or electronically?
I think I still prefer print, but I've genuinely come to appreciate the convenience of e-reading. It's much harder to read a print copy when standing on a tram than it is to hold your phone.
What does your bookshelves look like? Do you have an organisation system (genre, colour, author…) or are you just happy to go with the flow?
Author and genre, if possible, but some shelves just won't. It used to be size, too, but it drives me nuts when I have a series where the books are in different size formats.
How often do you read?
Every day. As much as I can.
Describe what you would expect to find in your dream book?
A story that sucks me in, but also makes me pause to think. I like being pulled out of my current understanding of a situation, but I also love when a book forces me out of my LazyBoy to live-action the book induced daydream. Secretly. With no one around for miles.
How do you choose what to read next?
If only I had a method. I had briefly finished all my 'currently reading' books once last year and it left me completely anxious as to the enormity of starting a single new book. My tastes are teasingly diverse and my current reading is down to mood/energy levels/brain power/format/occasion … perhaps you begin to see why one book will never quite suffice.
So you've started a book and discover it's not for you. Are you more likely to discard it or finish it?
I used to finish everything I started. Now I give it fifty pages. There are just way too many other books to try out still.
If you could read any book again, for the first time, which book would you choose?
Harry Potter. I wish I had a memory reset button where this series is concerned. (Though, maybe not entirely. I'd still like to revisit how I experienced it for the first time at different ages. Like a social experiment.)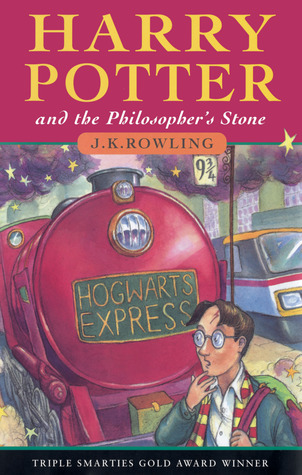 What is about books that appeals to you so much? What is your favourite part about reading?
I think it's the idea of entering into something and experiencing it even though I had no conscious/physical part in it moments before. It's like that quote that goes something along the lines of most people live once, but those who read live a thousand lives before they die. There are far too many experiences in this world for us to face and learn from them all, but with reading we can maybe get a little bit closer.
Can you tell us a bit about your blog and how long have you been blogging for?
I only started blogging a couple of months ago and I'm still very much finding my way. I've been working on an epic fantasy novel for about 6 years now and in January this year I decided this would be the year I worked it to a submittable stage. My blog is about this journey and anything related to my writing life.
Do you have any advice to other bloggers out there?
Don't over think it. Expressing yourself online is a really good way to get impressions and input from people outside of your immediate world. No one out there has any stake in what you do or don't do. So when they pause to take note, it can be very rewarding.
And now on to your writing, can you tell us a bit about your writing style. Are you a pantser or a plotter? Do you prefer to write in 1st or 3rd person? Are you an early riser writer or a late night owl writer?
Ironically, I just finished a blog post about this that should be out soon. I like playing around with styles. Sometimes 1st POV feels right for a story, other times 3rd is the only one that could possibly work.
I'm definitely an early riser when it comes to writing routine. It's the only thing in the world I'm willing to get up for early. I write every morning before work. I find it's the only time that remains largely untouched. After work never works, because things come up, or the day felt too long and exhausting. But early morning, everyone else is asleep and that first coffee always gets me in a writing mood. That said, I am actually more of a night owl creatively speaking and so, whenever I get into a writing zone and no real world dilemmas ruin it, I end up writing late into the night.
Was there any particular author/book that inspired you to start writing?
Two, at different stages. The first was Asterix and Obelix. I read about a million of them in year four when I was home sick from school for a rather lengthy period of time. They got me started on coming up with stories and adventures. This was back when I thought maybe I could draw little cartoons. Turns out, no.
A few years later, I was reading Castaways of the Flying Dutchman by Brian Jacques and the story left me with this really complex emotional reaction of aching loss and beautiful comfort and sadness and joy all rolled into one and I took a moment and thought 'I too want to be able to toy with people's emotions like this bastard has toyed with mine.'
Do you have any advice to other writers out there?
Don't worry about writing the story that will grab people or teach people or entertain people, just write the story that's sitting inside you dying to come out.
Figure out what kind of writer you are and find others like you to share in the triumphs and challenges with you.
And lastly, what are you currently working on?
It's an epic fantasy book called Fallen Water. I finished the first draft four years ago and am now working on trying to make it not suck.
To learn more about Nicola and follow her writing journey, visit the following social media sites: