Previously hosted by Sheila @ Book Journey; Now Hosted by Book Date
Currently Reading:
Nineteen minutes and eleven seconds separated us at birth. On the official documentation, he is older . . . Although it really has nothing to do with age. What it really means is that I am, and have always been, second.

Ben and Grace Walker are twins. Growing up in a sleepy coastal town it was inevitable they'd surf. Always close, they hung out more than most brothers and sisters, surfing together for hours as the sun melted into the sea. At seventeen, Ben is a rising surf star, the golden son and the boy all the girls fall in love with. Beside him, Grace feels like she is a mere reflection of his light. In their last year of school, the world beckons, full of possibility. For Grace, finishing exams and kissing Harley Matthews is just the beginning.

Then, one day, the unthinkable. The sun sets at noon and suddenly everything that was safe and predictable is lost. And everything unravels.

BREATHING UNDER WATER is a lyrical and emotionally powerful novel about life, death and learning to breathe in between.
LISTENING TO:

For more than a decade, Jenna Metcalf has never stopped thinking about her mother, Alice, who mysteriously disappeared in the wake of a tragic accident. Refusing to believe that she would be abandoned as a young child, Jenna searches for her mother regularly online and pores over the pages of Alice's old journals. A scientist who studied grief among elephants, Alice wrote mostly of her research among the animals she loved, yet Jenna hopes the entries will provide a clue to her mother's whereabouts.

Desperate to find the truth, Jenna enlists two unlikely allies in her quest. The first is Serenity Jones, a psychic who rose to fame finding missing persons—only to later doubt her gifts. The second is Virgil Stanhope, a jaded private detective who originally investigated Alice's case along with the strange, possibly linked death of one of her colleagues. As the three work together to uncover what happened to Alice, they realize that in asking hard questions, they'll have to face even harder answers.

As Jenna's memories dovetail with the events in her mother's journals, the story races to a mesmerizing finish. A deeply moving, gripping, and intelligent page-turner, Leaving Time is Jodi Picoult at the height of her powers.
Just Finished:
 

Hoping to read this week: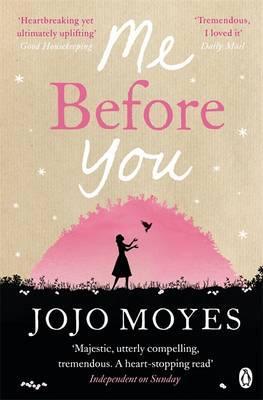 Lou Clark knows lots of things. She knows how many footsteps there are between the bus stop and home. She knows she likes working in The Buttered Bun tea shop and she knows she might not love her boyfriend Patrick.
What Lou doesn't know is she's about to lose her job or that knowing what's coming is what keeps her sane.
Will Traynor knows his motorcycle accident took away his desire to live. He knows everything feels very small and rather joyless now and he knows exactly how he's going to put a stop to that.
What Will doesn't know is that Lou is about to burst into his world in a riot of colour. And neither of them knows they're going to change the other for all time.
Last week on the blog:
Let's Talk Books With Rachel Grace Micallef from The Rest Is Still Unwritten
REVIEW: 'Hooker' by J L Perry 3/5 Stars
Australian Women Writer's Challenge 2016 (AWW2016): Update 5 (May)
REVIEW: 'These Days Of Ours By Juliet Ashton 5/5 Stars
It's Monday! What are You Reading?
What are you planning on reading this week? Let me know in the comments below 🙂