Top Ten Tuesday is a weekly meme hosted by The Broke And The Bookish where bloggers and readers create a list of books based on a weekly list theme.
Today's topic was:  Top Ten  Books Set Outside The US
This list was both incredibly easy and incredibly hard to come up with. It was easy because a good 80-90% of the books I read now don't come from the US. It was hard because a good 80-90% of books I read don't come from the us, which meant cutting that list down was HARD!
For Charli Blake, being seventeen is a tough gig.

She's been branded a troublemaker, her reputation is in tatters and she's stuck in Pipers Cove, a speck of a town on the coast of Tasmania.
Thankfully, it's temporary. Her lifelong dream of travelling the world is just months away from becoming reality. All she has to do is ride out the last few months of high school, which is easier said than done thanks to a trio of mean girls known as The Beautifuls.

When Adam Décarie arrives in town, all the way from New York, life takes an unexpected turn. His arrival sets off a chain of events that alters her life forever, convincing her of one thing. Fate brought him to her.

Saving Wishes is the story of a girl who doesn't quite fit the life she's living, and the boy who helps her realize why.
I'm dreaming of the boy in the tree. I tell him stories. About the Jellicoe School and the Townies and the Cadets from a school in Sydney. I tell him about the war between us for territory. And I tell him about Hannah, who lives in the unfinished house by the river. Hannah, who is too young to be hiding away from the world. Hannah, who found me on the Jellicoe Road six years ago.

Taylor is leader of the boarders at the Jellicoe School. She has to keep the upper hand in the territory wars and deal with Jonah Griggs—the enigmatic leader of the cadets, and someone she thought she would never see again.

And now Hannah, the person Taylor had come to rely on, has disappeared. Taylor's only clue is a manuscript about five kids who lived in Jellicoe eighteen years ago. She needs to find out more, but this means confronting her own story, making sense of her strange, recurring dream, and finding her mother—who abandoned her on the Jellicoe Road.

The moving, joyous and brilliantly compelling new novel from the best-selling, multi-award-winning author of Looking for Alibrandi and Saving Francesca.
So how did you meet him? I hear you asking.
Was it love at first sight? Was he a fellow teacher? Did you meet in a pub?
This might be hard to believe, but the first time I looked into your father's eyes, he was holding a gun to my head.
But first, let me explain . . .
Everything is coming together for twenty-year-old Kit. She loves her new subjects at uni, she has some great friends, her big country family is safely three hours drive away, and the lecturer she's been idolising for months seems interested in her. Kit's life is taking off!
But then there's an accident, the family calls Kit back, and suddenly all her certainties are shattered. Kit takes off to Ireland in search of answers. What she finds is a past dominated by violence, a present where the history still lives and a man who can help her understand . . .
Seconds before the Earth is demolished to make way for a galactic freeway, Arthur Dent is plucked off the planet by his friend Ford Prefect, a researcher for the revised edition of The Hitchhiker's Guide to the Galaxy who, for the last fifteen years, has been posing as an out-of-work actor.

Together this dynamic pair begin a journey through space aided by quotes from The Hitchhiker's Guide ("A towel is about the most massively useful thing an interstellar hitchhiker can have") and a galaxy-full of fellow travelers: Zaphod Beeblebrox–the two-headed, three-armed ex-hippie and totally out-to-lunch president of the galaxy; Trillian, Zaphod's girlfriend (formally Tricia McMillan), whom Arthur tried to pick up at a cocktail party once upon a time zone; Marvin, a paranoid, brilliant, and chronically depressed robot; Veet Voojagig, a former graduate student who is obsessed with the disappearance of all the ballpoint pens he bought over the years.
19th century Australia: Captain Woolcot, having lost his wife tragically young, remarried a much younger young woman to provide his six children with a new mother. Together, they had another child, making seven. The Captain felt it was necessary to run the family with army discipline, but his rules and regulations were no match for the fun loving children, led by the redoubtable Judy.

"But now it was morning, and she could disbelieve it no longer. Esther had come to her bedside and kissed her sorrowfully, her beautiful face troubled and tender. The kind-hearted stepmother had begged as she had never done before for a remission of poor Judy's sentence, but the Captain was adamant. To boarding school she must go!"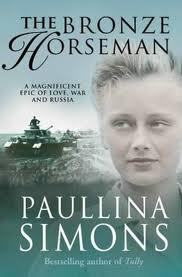 During the summer of 1941 the Metanov family are living a hard life in Leningrad. As the German armies advance their future looks bleak. For Tatiana, love arrives in the guise of Alexander, who harbours a deadly and extraordinary secret.
Lou Clark knows lots of things. She knows how many footsteps there are between the bus stop and home. She knows she likes working in The Buttered Bun tea shop and she knows she might not love her boyfriend Patrick.

What Lou doesn't know is she's about to lose her job or that knowing what's coming is what keeps her sane.

Will Traynor knows his motorcycle accident took away his desire to live. He knows everything feels very small and rather joyless now and he knows exactly how he's going to put a stop to that.

What Will doesn't know is that Lou is about to burst into his world in a riot of colour. And neither of them knows they're going to change the other for all time.
The slide opened and I heard a gentle, kind voice: What is your confession, my child? I was stuffed. The Priest would declare me a heretic; my parents would call me a traitor …The Priest asked me again: What is your confession, my child? I'm Muslim. I whispered. Welcome to my world. I'm Amal Abdel-Hakim, a seventeen year-old Australian-Palestinian-Muslim still trying to come to grips with my various identity hyphens. It's hard enough being cool as a teenager when being one issue behind the latest Cosmo is enough to disqualify you from the in-group. Try wearing a veil on your head and practising the bum's up position at lunchtime and you know you're in for a tough time at school. Luckily my friends support me, although they've got a few troubles of their own. Simone, blonde, gorgeous and overweight – she's got serious image issues, and Leila's really intelligent but her parents are more interested in her getting a marriage certificate than her high school certificate! And I thought I had problems.

Frankie Vega is angry. Just ask the guy whose nose she broke. Or the cop investigating the burglary she witnessed, or her cheating ex-boyfriend or her aunt who's tired of giving second chances…When a kid shows up claiming to be Frankie's half brother, it opens the door to a past she doesn't want to remember. And when that kid goes missing, the only person willing to help is a boy with stupidly blue eyes … and secrets of his own. Frankie's search for the truth might change her life, or cost her everything.
Damen is a warrior hero to his people, and the rightful heir to the throne of Akielos, but when his half brother seizes power, Damen is captured, stripped of his identity, and sent to serve the prince of an enemy nation as a pleasure slave.

Beautiful, manipulative and deadly, his new master Prince Laurent epitomises the worst of the decadent court at Vere. But in the lethal web of Veretian politics, nothing is as it seems, and when Damen is caught up in a dangerous play for the throne, he must form an alliance with Laurent to survive and save his country.

For Damen, there is just one rule: he must never reveal his true identity. Because the one man Damen needs is the one man who has more reason to hate him than anyone else . . .
Who would make your list?
This week's topic: Top Ten Characters Who X…
This week's topic: Top Ten Characters Who X…