I'm ecstatic today to be able to introduce to you all a very talented Australian author who has the biggest heart of gold, Pamela Hart. Earlier this year I meet Pamela at the Newcastle Writer's Festival when she was promoting her new picture book with Liz Anelli (Desert Lake: The Story of Kati Thanda Lake Eyre), her passion for her craft and reading was abundantly clear and in many ways infectious. Since then I've chatted on and off with Pamela about books and writing and when she asked to be part of this feature (because I was too scared to ask her!) I was over the moon.
Pamela Hart is my married name and The Soldier's Wife is my first book under that name, inspired by my grandfather's service as an ANZAC at Gallipoli (see The Story behind The Soldier's Wife). As Pamela Freeman, I've written children's fiction, epic fantasy, crime fiction and children's poetry. You can find out more about my other books here.
I became seriously interested in historical fiction when I wrote The Black Dress, a fictional account of the childhood of Mary MacKillop in the Australia of the 1840s-1860s.
I have a Doctor of Creative Arts in Writing from the University of Technology, Sydney, and I teach writing (face-to-face and online) at the Australian Writers' Centre.
My writing started when I was a children's scriptwriter for ABC Kids, which was where I began to write children's stories. But then I found that I wanted to tell stories for adults, too, and particularly stories about women's lives, loves, tears and joys.
What are you currently reading?
I'm reading Bronwyn Parry's Dungirri series, a rural crime/romance series I'm thoroughly enjoying.
What was the last book you bought?
See above! Also, Italian Venice: A History, and Dragonfly Song by Wendy Orr, which I think is one of the best things I've read in years!
Do you prefer to read books in print or electronically?
Electronically. I read on my phone – I've got to the point where I actively resent having to carry a hardcopy book around. Which I never expected to be the case! But my phone is always with me, and it feeds my reading addiction.
What does your bookshelves look like? Do you have an organisation system (genre, colour, author…) or are you just happy to go with the flow?
We have so many(27 bookcases)! We divide books first by genre, then by authors. It's reasonably organised, but at the moment we're packing everything up so the house can be painted, so nothing is where it's supposed to be!
As my husband started his professional life as an archaeologist, and writes books set in the 1720s, and I'm a historian, we have a very large reference section, which I admit is not as organised as the fiction. It's just clumped together by period.
How often do you read?
More like, when don't I read? As a child, I got into the habit of reading All The Time when I'm not actually doing something else. I read while I'm watching tv, I read in the bits of cooking where you're just standing there, I read in the bath…
Three to four books a week is typical. On holidays, LOTs more!
Describe what you would expect to find in your dream book?
It depends on my emotional state. But overall, I want characters I can care about, a strong story, and a satisfying resolution. Doesn't have to be happy, but it does have to answer the story problem of the book in a way which feels authentic.
And the thing which puts me off the most is a book where I can't like any of the characters. Why should I waste my time with those people? If there's no-one in a book whom I wouldn't want to spend time with (say, at a party), I'm not likely to enjoy it, no matter how well it's written.
How do you choose what to read next?
Um… it varies a lot. I have a lot of writer friends, so I do tend to read whatever they've just released. I also pre-order my favourite writers, so sometimes a book just turns up on my Kindle app and I go Ooooh! And of course, as an historical fiction writer I have to do a lot of research. Non-fiction, naturally, but also the fiction of the period I'm writing about.
Also, I belong to the Big Country Book Club, which is a curated book club run by Bernadette Foley, who used to be my publisher at Hachette Australia. Bernadette picks the best books published each month and you choose between half a dozen of them. It saves a lot of grief and time!
So you've started a book and discover it's not for you. Are you more likely to discard it or finish it?
I don't finish any more – unless it's written by a friend. (Shhh, that does sometimes happen.)
If you could read any book again, for the first time, what book would you choose?
Oh, what an interesting question! Probably the Bible, which I read in its entirety when I was 14. I'm sure I'd read it differently today.
What is about books that appeals to you so much? What is your favourite part about reading?
I like being other people, in other places – living lives I'll never get to live, understanding people who are radically different from me… and yet, not so different that I can't understand and feel for them.
My favourite part is probably when a writer shows me an emotion or reaction from a character which I wouldn't have predicted but which feels just right, maybe because then I'm learning more about being human.
Can you tell us a bit about your writing style. Are you a pantser or a plotter? Do you prefer to write in 1st or 3rd person? Are you an early riser writer or a late night owl writer?
Yes. Yes, I'm all those things, depending on the book. As Pamela Hart, I write mostly in third person, but as Pamela Freeman (my name for children's books), I've often written in first person. Some books I know exactly what is going to happen, and others, like the one I'm working on at the moment, I only have the broadest outline of – in fact, the middle of the book was completely unknown to me! I am a mostly an afternoon writer, however. My brain works best between three and seven pm, which is a terrible thing for a mother!
Was there any particular book that inspired you to start writing?
No, not really. Lord of the Rings got me interested in fantasy when I was a teenager, but I'd been reading science fiction and paranormal for years before that, along with historical (Georgette Heyer in particular), mysteries, folklore, mythology, travel books – just about everything, really. Just an addiction to story – and when you can't find the story you want to read, you have to make it up yourself!
Do you have any advice to other writers out there?
The most common mistake new writers make is to send their book to a publisher too soon. So my advice is: once you have a first draft, put it in a drawer for six months. Go write something else. Then you can come back to it with an objective eye, and fresh enthusiasm for the two to five more drafts you're likely to have to do to get it ready to submit.
And lastly, what are you currently working on?
I'm working on A Letter From Italy, which is a novel set in 1917 in Italy, about a female war correspondent, who is reporting on the Australian Navy's participation in the Otranto Barrage – a blockade of the Adriatic Sea. There may well be some romance elements in it, but it's not as straightforward a romance as The War Bride, as the book starts only two weeks after Rebecca, my main character, has lost her husband.
It will be out in time for Mother's Day next year!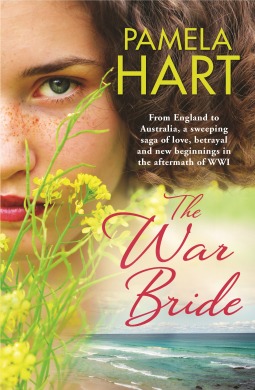 Thank you so much for stopping by Pamela! It's been lovely chatting with you about books – I'm also totally envious of your 27 bookshelves!
To learn more about Pamela Hart/Freeman, visit the following social media pages:
*Note: Signing up to Pamela's newsletter on her website means you get a free short story! What are you waiting for, sign up now 🙂