Previously hosted by Sheila @ Book Journey; Now Hosted by Book Date
Currently Reading: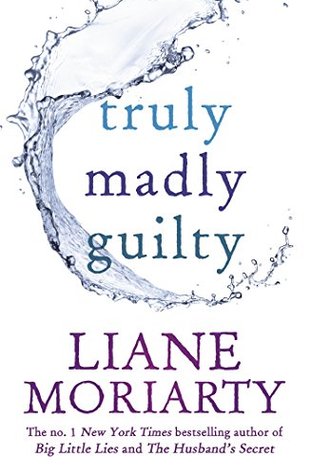 If only they'd said no…

What if they hadn't gone? That's the question Clementine can't stop asking herself. It was just an ordinary backyard barbeque on a Sunday afternoon. They didn't know their hosts that well. They were friends of friends. They could so easily have said no.

But she and her husband Sam said yes, and now they can never change what they did and didn't do that beautiful winter's day.

Six responsible adults. Three cute kids. One yapping dog. It's a normal weekend in the suburbs. What could possibly go wrong?

Once again Liane Moriarty uses her unique, razor-sharp observational skills to sift through the emerging fault lines of seemingly happy families.

It was just an ordinary Sunday afternoon…

I'm having a meltdown. Not the put-her-in-the-loony-bin kind, but the rock-in-the-corner-so-I-can-breathe kind. Maybe they're one and the same and I really do need to be put away, but I think I just need a little air. I'm bone tired. My eyes look like I haven't slept in weeks. I'm eating my feelings and developing a pudge that isn't gonna go anywhere if I keep binging on chocolate, nachos and wine.

I'm 28 and everyone has left me. I have no friends. My boyfriend left. My mom died, so technically she left me too. I hate my job.

I get this overwhelming 'oh my God, is this what my life is gonna be?' feeling and I want to die.

Curl up and die.

And since I don't feel my heartbeat fading or my breathing getting even slightly faint, I panic that I'm gonna have to live.

Maybe Maby is a heartbreaking, and at times, hilarious story about coping with loss, finding love in New York, and learning to recognize hope in the middle of it all.
LISTENING TO:
One choice can transform you—or it can destroy you. But every choice has consequences, and as unrest surges in the factions all around her, Tris Prior must continue trying to save those she loves—and herself—while grappling with haunting questions of grief and forgiveness, identity and loyalty, politics and love.

Tris's initiation day should have been marked by celebration and victory with her chosen faction; instead, the day ended with unspeakable horrors. War now looms as conflict between the factions and their ideologies grows. And in times of war, sides must be chosen, secrets will emerge, and choices will become even more irrevocable—and even more powerful. Transformed by her own decisions but also by haunting grief and guilt, radical new discoveries, and shifting relationships, Tris must fully embrace her Divergence, even if she does not know what she may lose by doing so.

New York Times bestselling author Veronica Roth's much-anticipated second book of the dystopian DIVERGENT series is another intoxicating thrill ride of a story, rich with hallmark twists, heartbreaks, romance, and powerful insights about human nature.
Just Finished:
 

Hoping to read this week:



Last week on the blog:
Let's Talk Books With Pamela Hart, Author of The War Bride
Where Were You When Harry Potter & The Deathly Hallows Released?
REVIEW: Environmentally Friendly by Elias Zanbaka 3/5 Stars
Waiting On Wednesday:  'Sunset Shadows' by Bronwyn Parry
REVIEW: OH, ALBERT! by Davina Bell and Illustrated by Sara Acton 4/5 Stars
Top Ten Tuesday:  Top Ten  Books Set Outside The US
It's Monday! What are You Reading?
What are you planning on reading this week? Let me know in the comments below 🙂