Previously hosted by Sheila @ Book Journey; Now Hosted by Book Date
It's Monday already? Blink twice and the week is gone. In some ways I'm glad to see the back of last week as I had a very bad pain related week. Thankfully my last round of tests actually showed something and I know have a diagnosis and a proper treatment plan. But the medication they put me on made me so drowsy that I couldn't barely read…. Thankfully it kind of passed for SUNDAY though with the release of the new Harry Potter Script Book.
I was one of many brave and die hard fans who raced to the shops early Sunday morning for the launch of Harry Potter & The Cursed Child.
With my youngest sister in tow, we were in and out of the shops quickly and racing towards home ready to dive back into one of my all time favourite fictional worlds. I finished the script book within the space of a couple of hours and all I can say still is wow.
Currently Reading:
They couldn't be less compatible, but they make a great team…

Emerson Knight is introverted, eccentric, and has little-to-no sense of social etiquette. Good thing he's also brilliant, rich and (some people might say) handsome.

Riley Moon has just graduated from Harvard. Her assertive (some people might say aggressive) spitfire attitude has helped land a dream job at Blane-Grunwald bank. At least, Riley Moon thinks it's her dream job until she is given her first assignment: babysitting Emerson Knight.

An inquiry about missing Knight money leads to a missing man, missing gold and a life-and-death race across the country. Through the streets of Washington D.C., and down into the underground vault of the Federal Reserve in New York City, an evil plan is exposed. A plan so sinister that only a megalomaniac could think it up, and only the unlikely duo of the irrepressibly charming Emerson Knight and the tenacious Riley Moon could hope to stop it…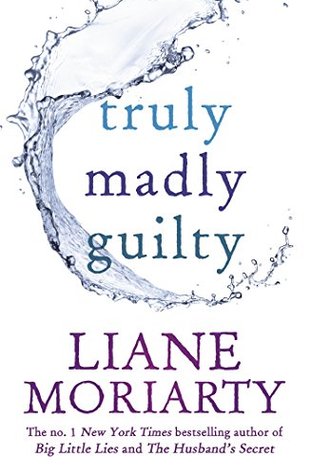 If only they'd said no…

What if they hadn't gone? That's the question Clementine can't stop asking herself. It was just an ordinary backyard barbeque on a Sunday afternoon. They didn't know their hosts that well. They were friends of friends. They could so easily have said no.

But she and her husband Sam said yes, and now they can never change what they did and didn't do that beautiful winter's day.

Six responsible adults. Three cute kids. One yapping dog. It's a normal weekend in the suburbs. What could possibly go wrong?

Once again Liane Moriarty uses her unique, razor-sharp observational skills to sift through the emerging fault lines of seemingly happy families.

It was just an ordinary Sunday afternoon…

I'm having a meltdown. Not the put-her-in-the-loony-bin kind, but the rock-in-the-corner-so-I-can-breathe kind. Maybe they're one and the same and I really do need to be put away, but I think I just need a little air. I'm bone tired. My eyes look like I haven't slept in weeks. I'm eating my feelings and developing a pudge that isn't gonna go anywhere if I keep binging on chocolate, nachos and wine.

I'm 28 and everyone has left me. I have no friends. My boyfriend left. My mom died, so technically she left me too. I hate my job.

I get this overwhelming 'oh my God, is this what my life is gonna be?' feeling and I want to die.

Curl up and die.

And since I don't feel my heartbeat fading or my breathing getting even slightly faint, I panic that I'm gonna have to live.

Maybe Maby is a heartbreaking, and at times, hilarious story about coping with loss, finding love in New York, and learning to recognize hope in the middle of it all.
LISTENING TO:
Just Finished:
 

Hoping to read this week:



'Dammit, Tess, he doesn't seem worth protecting.'

'I'm not protecting him, sarge,' she said. She dropped her gaze, biting her lip, and for the first time in his experience she spoke in a small voice. 'I'm protecting me.'

For police officers Steve Fraser and Tess Ballard, a split-second decision saves the lives of fifty members of a cult ­- but also puts their careers on the line. Tess's work is everything to her; she's forged a new life through sheer determination, so when her past returns to haunt her, Steve must race through wild country if he is to save the people he most cares about.

In SUNSET SHADOWS, the thrilling new novel by multi-award-winning author Bronwyn Parry, you will feel immersed in the dramatic beauty, isolation, wind and the sun of the deep Australian bush – and its sinister shadows . . .
Last week on the blog:
Australian Women Writer's Challenge 2016 (AWW2016): Update 7 (July) Let's Talk Books With Ainslie Paton, Author Of Damaged Goods
Magical Week …
It's Monday! What are You Reading?
What are you planning on reading this week? Let me know in the comments below 🙂