Previously hosted by Sheila @ Book Journey; Now Hosted by Book Date
I made it! It's late on Monday afternoon right now, but I still made it! We won't talk about the black circles currently taking up residency under my eyes or the massive book hangover I have for the weekend's Sydney Author Event. I will say however that I had the most amazing and full on weekend in Sydney surrounded by authors and readers alike. I'm not going to say too much on the event just now though, as I'm hoping to have a wrap up post up tomorrow or Wednesday on it. So keep checking back because I also have some pretty amazing signed books to give away over the next few weeks as well.
This week I'm jet setting off to SA to attend the annual Romance Writers of Australia conference and I'm really looking forward to it. This is my third of these conferences that I've been fortunate enough to attend and they are just so much fun. I'm finding my writing is lagging lately, so I really need the creative kick that this event always initiates!
And because I'm attending so many bookish events last week and this week, I won't have a lot of time to read 😦 I'm going to try and sneak it in there when I can though because the day doesn't feel right if I haven't read at least one page. Not that I've ever been able to stop just there …  The book I've chosen this week has come highly recommended by I think half the internet and some close friends whose opinion I value highly. It's the first book by that author that I've ever read, and I'm rushing it in now in between ARCS simply because spoilers are popping up online and I don't want to ruin a book I've been told to go in blind for. So wish me luck. I hear I'm going to need it!
P.S Make sure you follow me on Instagram and Facebook as I post a lot there over the SAE events this past weekend, and will be doing the same this coming week with RWA. I'll try and write some posts as well while I'm away, but past experience has taught me that there's not a lot of spare time at this events.
Currently Reading: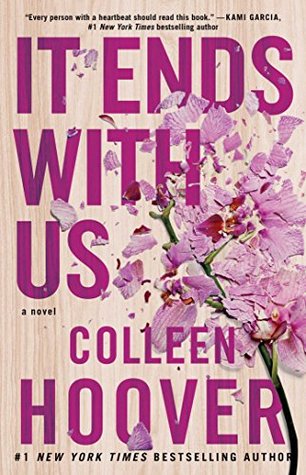 Lily hasn't always had it easy, but that's never stopped her from working hard for the life she wants. She's come a long way from the small town in Maine where she grew up—she graduated from college, moved to Boston, and started her own business. So when she feels a spark with a gorgeous neurosurgeon named Ryle Kincaid, everything in Lily's life suddenly seems almost too good to be true.

Ryle is assertive, stubborn, maybe even a little arrogant. He's also sensitive, brilliant, and has a total soft spot for Lily. And the way he looks in scrubs certainly doesn't hurt. Lily can't get him out of her head. But Ryle's complete aversion to relationships is disturbing. Even as Lily finds herself becoming the exception to his "no dating" rule, she can't help but wonder what made him that way in the first place.

As questions about her new relationship overwhelm her, so do thoughts of Atlas Corrigan—her first love and a link to the past she left behind. He was her kindred spirit, her protector. When Atlas suddenly reappears, everything Lily has built with Ryle is threatened.
LISTENING TO:
Just Finished:
 

Hoping to read this week:



'Dammit, Tess, he doesn't seem worth protecting.'

'I'm not protecting him, sarge,' she said. She dropped her gaze, biting her lip, and for the first time in his experience she spoke in a small voice. 'I'm protecting me.'

For police officers Steve Fraser and Tess Ballard, a split-second decision saves the lives of fifty members of a cult ­- but also puts their careers on the line. Tess's work is everything to her; she's forged a new life through sheer determination, so when her past returns to haunt her, Steve must race through wild country if he is to save the people he most cares about.

In SUNSET SHADOWS, the thrilling new novel by multi-award-winning author Bronwyn Parry, you will feel immersed in the dramatic beauty, isolation, wind and the sun of the deep Australian bush – and its sinister shadows . . .
Last week on the blog:
Waiting On Wednesday: 'Empire of Storms' by Sarah J Maas
It's Monday! What are You Reading?
What are you planning on reading this week? Let me know in the comments below 🙂