Previously hosted by Sheila @ Book Journey; Now Hosted by Book Date
Currently Reading: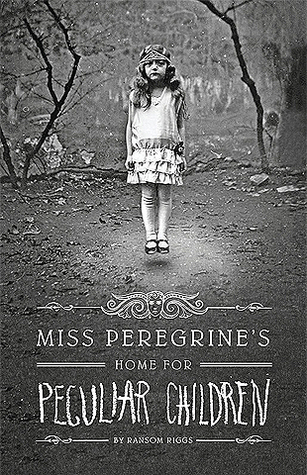 A mysterious island. An abandoned orphanage. A strange collection of curious photographs.

A horrific family tragedy sets sixteen-year-old Jacob journeying to a remote island off the coast of Wales, where he discovers the crumbling ruins of Miss Peregrine's Home for Peculiar Children. As Jacob explores its abandoned bedrooms and hallways, it becomes clear that the children were more than just peculiar. They may have been dangerous. They may have been quarantined on a deserted island for good reason. And somehow—impossible though it seems—they may still be alive.

A spine-tingling fantasy illustrated with haunting vintage photography, Miss Peregrine's Home for Peculiar Children will delight adults, teens, and anyone who relishes an adventure in the shadows.
When a bestselling debut novel from mysterious author J.Colby becomes the literary event of the year, Emiline reads it reluctantly. As an adjunct writing instructor at UC San Diego with her own stalled literary career and a bumpy long-term relationship, Emiline isn't thrilled to celebrate the accomplishments of a young and gifted writer.

Yet from the very first page, Emiline is entranced by the story of Emerson and Jackson, two childhood best friends who fall in love and dream of a better life beyond the long dirt road that winds through their impoverished town in rural Ohio.

That's because the novel is patterned on Emiline's own dark and desperate childhood, which means that "J. Colby" must be Jase: the best friend and first love she hasn't seen in over a decade. Far from being flattered that he wrote the novel from her perspective, Emiline is furious that he co-opted her painful past and took some dramatic creative liberties with the ending.

The only way she can put her mind at ease is to find and confront "J. Colby," but is she prepared to learn the truth behind the fiction?
From the bestselling author of The Horse Thief comes a historical story of love, intrigue and danger in the majestic cedar forests of the Hunter Valley.
 
Even if time heals all wounds, you still bear the scars…

Wollombi: 1855. When Roisin Ogilvie moves to Wollombi her thoughts are only of protecting her illegitimate son, Ruan, from the grasps of his powerful and dangerous father. Posing as an impoverished widow, she settles into a quiet existence as a local dressmaker. She doesn't expect to catch the attention of Irish champion cedar cutter Carrick O'Connor, or any other man for that matter.

Carrick O'Connor may have won the coveted Wollombi Wood Chop, but his mind is on the beautiful seamstress and her son. Or rather, on who they remind him of. Determined to exact revenge for the horrors of his past, Carrick plans to return to Ireland to seek revenge on the land agent who was responsible for the death of his wife and child, and his transportation. Then, hopefully, he can return to Wollombi to start life afresh.

But a murder charge, a kidnapping, a growing attraction, and a past that refuses to stay silent will turn both his and Roisin's lives upside down and will lead them to a hard choice. Redemption? Or cutters' justice?
LISTENING TO:
Just Finished:
 

Hoping to read this week:



Last week on the blog:
Let's Talk Books With K.A. Sterritt, Author of Impact
REVIEW: 'The Art Of Keeping Secrets' by Rachael Johns 5/5 Satrs
Secret Author Event: The Art Of Keeping Secrets With Rachael Johns and Harlequin Australia
BLOG TOUR: 'The Eagle' By Jillian Dodd
REVIEW: 'The Gobbledygook And The Scribbledynoodle' by Justine Clarke, Arthur Baysting & Illustrated by Tom Jellett
It's Monday! What Are You Reading?
What are you planning on reading this week? Let me know in the comments below 🙂