Today I am excited to be hosting Tash M from Confessions From Romaholics. Tash is an extremely well read and book loving blogger who is in the transition of branching her book blog into a lifestyle blog. But never fear, Tash will still be reviewing and supporting the bookworld in every way she can.
At the most recent SAE event I got to sit down and chat one-on-one (informally) with Tash about everything books and blogging and I couldn't have been happier, nor more impressed to be talking with one of the book communities most well respected and loveable bookworms! So a couple of weeks post event when I finally got the courage up to ask her to be part of the feature, I was absolutely ecstatic that she agreed wholeheartedly despite her crazy busy schedule. So without further ado, I give you all Tash M from Confessions from Romaholics.
Confessions From Romaholics is run  by  Tash M, a twenty something electric reader .  I started the blog in  August 2012 , with the  aim to bring fresh reviews about the books we love , interviews from our favourite authors and more with a bunch of friends. Now  it is just me but is still  all about the romance, young adult, new adult and more.
What are you currently reading?
The Barbarian's Taming by Ruby Dixon – This is a side secret project of a trad pub author and I'm addicted to her stuff. She hasn't revealed who she is. However this series is a one click for me; I'm addicted.
What's the last book you bought?
Shielding Lily by Alexa Reily.  The duo are ex-bloggers and I love the quick dirty reads. I'm trying to limit my buys of late but there some authors that are just one click must haves.
Do you prefer to read books in print or electronically?
It depends on the situation. If I'm sneaking in read at tafe, then ebook. If I'm on the bus,train or home then it is a paperback. Nothing beats the smell of a paperback .
If I was to walk into your house right now, what would your bookshelves look like? Do you have an organisation system (genre, colour, author…) or are you just happy to go with the flow?
A mess, I go with the flow. I have pictures  on IG showing how shocking my bookshelves are. I have books lying around everywhere in my room. The only ones that have a sense of order is my signed books and the books that I got  recently as they are on the floor (Face palm).
How often do you read?
Ever single day, I'm currently getting back into the swing of things after putting reading aside for SAE and school and I got so behind. So I'm cramming as much reading as I can at the moment.
Describe what you would expect to find in your dream book?
Cliché ridden lol. In all seriousness, I love the clichés but I love a book that is well written that take a romance cliché and makes it own and rewrites it.
How do you choose what to read next?
It depends on my mood. I usually read a few of the same genre/pairing then move on to something else.
So you've started a book and discover it's not for you. Are you more likely to discard it or finish it?
I more likely to finish it. There was one book that I can remember DNF (Did not finish) for reviewing purely because I didn't like how it was written. It was written for a  male market , middle school age and to be honest the way it was written just wasn't for me.
If you could read any book again, for the first time, what book would you choose?
Hate to Love You by Elise Alden – it so cliché but so good. I read this book at least couple times a year.
What is about books that appeals to you so much? What is your favourite part about reading?
Escaping to another world in a nutshell. I was brought up to love books and it that appeal has carried me through life so far. It allows me to forget things for a little while and indulgence in things I may never experience or do.
Can you tell us a bit about your blog and how long have you been blogging for?
So I have been blogging since 2011. I started off on another blog then created my current blog in  2012 which is Confessions From Romaholics. Whilst the name may hint I'm into romance. I'm actually a very eclectic reader and blogger.  I read anything from historical fiction to middle grade novels and everything in between.
I'm trying to revamp it as we speak and embrace my other hobbies and passion to make it more of a lifestyle blog. I'm hoping to have something up and running by the end of this year.
What has been your favourite book you've reviewed on your blog?
That a tough one, I have read a lot over the 5 years and with reading different genres/parings but I'd have to go with The Sacred Lies of Minnow Bly by Stephanie Oakes. It a creepy tale   about a girl from a cult and I have never read anything like this book before or after dealing with this matter in the YA genre.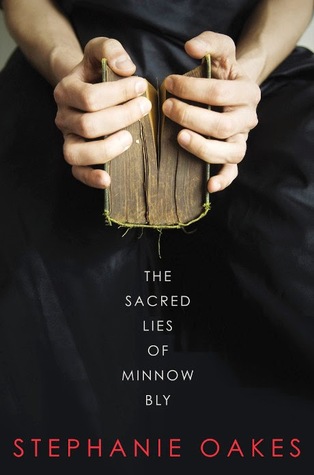 Do you have any advice to other bloggers out there?
Be true to yourself. Don't follow others. Do what you love and stick to it.  Don't worry what others are doing.
Thanks so much for chatting with us Tash!
To learn more about Tash, you can find her over at the following social media sites:
If you want perma links let me know