Top Ten Tuesday is a weekly meme hosted by The Broke And The Bookish where bloggers and readers create a list of books based on a weekly list theme.
Today's topic was:   Ten Books I've Added To My To-Be-Read List Lately

To clarify, these are the last ten books I've brought or received to review in either print or ebook format.
Giving a present is not always easy. Clover O'Brian knows that only too well: her job consists of helping people in the arduous task of choosing unusual gifts. Christmas is coming, New York is buzzing, and Clover, who has always loved the festive period, savours the atmosphere.

Cade Harrison already has everything in life. A Hollywood actor, he is handsome, rich, famous and popular. Success, however, has its downsides; having just emerged from a disastrous relationship with an actress, he feels a need to hide away in an area unfrequented by stars, in an apartment lent him by a friend, far from prying eyes – especially those of tabloid reporters. But as chance will have it, the apartment in question is right opposite the one occupied by Clover, who until now has seen Hollywood actors only on the big screen. Two quite different lives meet by chance, at the most exhilarating time of year…
A compelling rural romance, with a healthy sprinkling of suspense and family drama.

Jasmine Thomas should feel safe in her cosy cottage at Admella Beach after finally putting an end to an ill-advised romance. But her perfect sanctuary is shattered with the arrival of hand-delivered threatening notes. Someone has discovered her secret.

When the notes escalate to vandalism, Jasmine's anxiety rises. But in such a small place, telling the police would mean the whole town finding out.

Digby Wallace-Jones is stumbling through the motions of life, wrapped in a fog of grief since his fiancee Felicity died. Withdrawn from his family, Digby doesn't care about anything beyond his loss. But in a chance meeting with Jasmine, his sister's best friend who he's known forever, even he can see the tension she carries. Worried and feeling protective, he continues to drop by, but it's more than that. Jasmine soothes him; and, unlike the rest of his family, he can talk to her about his pain without fear of judgement. But as much as he likes Jasmine, Digby's enduring love for Felicity means he has nothing left to give and he pushes Jasmine away.

Jasmine knew they were supposed to stay friends 'with excellent benefits' but she can't help her wayward heart from falling for this tortured, kind and sexy man. How can she ever loosen the grip Felicity's memory has on Digby's soul and remind him he still has a life ahead of him?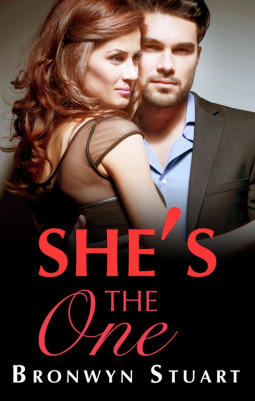 In the game of love—and TV—you play to win or you lose your heart.

Millionaire Banjo Grahams originally signed up for She's The One drunk as a skunk and willing to do anything to bed Australia's most beautiful women, but when he sobers up he realises he could lose much more than his reputation if he goes through with it. Unable to back out of an ironclad contract, he makes a deal with the network boss to rig the show, picking the lucky bachelorette ahead of time and guiding the season to meet his own ends and keep the board happy.

When her father tells Eliza Peterson she isn't going to produce She's The One, but appear as a one of the contestants, she is livid. Competing for some guy on reality TV is no way to earn his—and the network's—respect and show them she is capable of producing shows of her own.

But for all the planning and staging, somehow the show takes on a reality of its own, and the goals of Eliza and Banjo fall away from something neither of them expected—love.
For her, Christmas has always been about family, which is why it hurts so much not to have one of her own…

It's Christmas, the happiest time of the year and everyone around Kandy is pairing off. She should be excited for her friends but another year has gone by and she's no closer to finding her own happy ending. When an opportunity arises to go after what she wants, Kandy grabs it with both hands.

Parker Jones has been in love with Kandy Cane since he was fifteen. Finally having Kandy's undivided attention is a dream come true and he knows he has to work quickly to get under her skin and into her heart and stay there. But Kandy has a secret, one that could lead to a different kind of connection than Parker was hoping for.

Happy endings can't be forced, but if Parker can convince Kandy of his love, they just might have a Christmas with all the trimmings.
The highly anticipated new blockbuster by the bestselling author of The Perfumer's Secret.

Alexandra Frobisher is a modern-thinking woman with hopes of a career in England's famous chocolate-making town of York. She has received several proposals of marriage, although none of them promises that elusive extra – love.

Matthew Britten-Jones is a man of charm and strong social standing. He impresses Alex and her parents with his wit and intelligence, but would an amicable union be enough for a fulfilling life together?

At the end of the war, Captain Harry Blakeney discovers a dead soldier in a trench in France. In the man's possession is a secret love note, tucked inside a tin of chocolates that had been sent to the soldiers as a gift from the people back home.

In pursuit of the author of this mysterious message, Harry travels to Rowntree's chocolate factory in England's north, where his life becomes inextricably bound with Alexandra and Matthew's. Only together will they be able to unlock secrets of the past and offer each other the greatest gift for the future.

From the battlefields of northern France to the medieval city of York, this is a heartbreaking tale about a triangle of love in all its forms and a story about the bittersweet taste of life … and of chocolate.