Published: 1st June 2017
Publisher:  Harlequin HQ Australia
Pages: 416
Format:: Ebook courtesy of the publisher and Netgalley
RRP: $19.99 (AUD)
5/5 Stars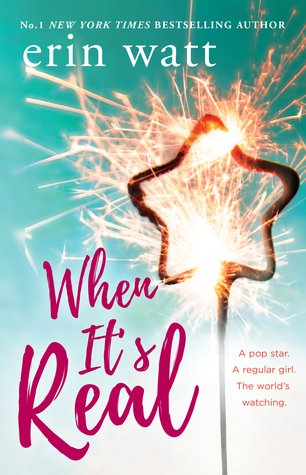 Vaughn Bennett lands it all when she agrees to become a pop star's fake girlfriend in this smart, utterly addictive novel from No. 1 New York Times bestselling author duo Erin Watt.

Under ordinary circumstances, Oakley Ford and Vaughn Bennett would never even cross paths.

There's nothing ordinary about Oakley. This bad-boy pop star's got Grammy awards, millions of fangirls and a reputation as a restless, too-charming troublemaker. But with his home life disintegrating, his music well suddenly running dry and the tabloids having a field day over his outrageous exploits, Oakley needs to show the world he's settling down — and who better to help him than seventeen-year-old Vaughn, a part-time waitress trying to help her family get by? The very definition of ordinary.

Posing as his girlfriend, Vaughn will overhaul Oakley's image from troublemaker to serious artist. In return for enough money to put her brothers through college, she can endure outlandish Hollywood parties and carefully orchestrated Twitter exchanges. She'll fool the paparazzi and the groupies. She might even start fooling herself a little.

Because when ordinary rules no longer apply, there's no telling what your heart will do…
I absolutely adored When It's Real. It's the kind of book that you pick up one afternoon on a whim, and before you know it, three hours have passed and you've finished the book!
Vaughn Bennett is one of the best heroines I've read in a while. Trying to hold her life together after the death of her parents some years before, Vaughn is the kind of girl that puts her family's needs above her own. When cornered by Diamond Management to appear as music sensation Oakley Ford's fake PR girlfriend for the year, she is torn by the idea. Disgusted by the prospect of being paid to be a girlfriend – no matter how fake – but knowing her family is in desperate need of the money, she puts her own feelings aside. But will it bring her happiness in the end? Or will this one decision cause her a life time of pain?
One of the things I most liked about Vaughn was the fact that she knew her own mind. Here was a girl being forced into a situation that she didn't particularly like, but knowing it was for the better of her family. She is also witty and sarcastic and a hold-no-bares kind of girl who will tell you as it is and I found this openness and honesty so refreshing.
I loved Oakley. Brought up in front of the media's ever watchful eye, Okaley Ford just wants to play music and leave all the crap for someone else to deal with. He doesn't want to be famous, he just wants to play. But when the headlines start preventing him from moving his career forward like he wants to, Oakley is convinced by his management to play the game and reform his image publicly to get what he wants most. What none of them expected to find however was Vaughn, the perfect girl-next-door-everyday-girl to reclaim Oakley's good boy image, and so much more than meets the eye.
When the book opens, there's no hiding Oakley is a bit of a jerk. He has a massive chip on his shoulder thanks to privacy invasions and expectations and well… he is used to getting everything his own way as long as he throws enough money at it. So when he meets Vaughn and she doesn't fall at his feet like he predicts, Oakley starts to take notice and it's from here out that we get a glimpse into who the real Oakley is and what he does and doesn't like.
When It's Real is a slow burn romance and it's oh-so-good. I loved being able to watch Oakley and Vaughn navigate social situations neither expected to find themselves in and to witness them breaking down the walls each other has built around them. The pair interact over social media – for their fans, management and the media – and things start to turn from being so obviously fake and forced to something so genuine and real that most of us can only hope to find.
Lastly, When It's Real is ultimately a Cinderella-esque story. it's super cute, honest and raw at times, while maintaining subtle digs at social perceptions and expectations and the unrealistic nature of relationships online. It's a book I read in one sitting and would re-read in a heartbeat.
I've read a number of books that are so similar to this one in concept, yet none have come close to pulling off what Erin Watt did with When It's Real. The story itself doesn't feel forced, the characters seemed relaxed (relaxed as you can when forced into situations neither of you agree with) and the relationships are organic. I loved the slow burn build up between Oakley and Vaughn who initially couldn't stand each other and it made their tender moments oh so much more real and believable. I loved it and highly recommend it.
To purchase a copy of When It's Real, visit the following online retailers:
To learn more about Erin Watt, visit the following social media pages: