Published: 30th July 2017
Publisher: Hachette Australia
Pages: 256
Format: Ebook (ARC courtesy of the publisher for review)
RRP: $5.99
4/5 Stars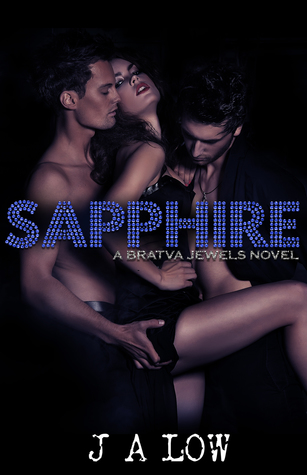 An unconventional love is tested to its limits in this completely immersive dark ménage suspense, for fans of JL Perry and Pepper Winters.

Mateo is used to being in the spotlight, he craves it in everything he does . . . except when it comes to his love life – that is firmly in the closet.

Tomas shuns the spotlight, the one he was born into, he wants nothing to do with it or his high-flying family who now reject him for his choices in love.

But Tomas' and Mateo's carefully constructed lives are turned inside out when they discover a beautiful, battered woman on their doorstep. The woman with the sapphire eyes has no memory of who she is or how she got there. Can they help her remember before the men who are after her find her first?

The first standalone book in the BRATVA JEWELS series from the author of the DIRTY TEXAS books, JA Low
I've previously read J A Low's The Dirty Texas series (rock-star romance) and really enjoyed her books, but nothing could have prepared me for Sapphire. Sapphire is the kind of book that you fly through because you are so gripped by the world and characters that you simply can't put it down. It's the kind of book that asks the reader to go in open minded and is confronting as all hell, but it's a story that needs to be told, and one that will leave the reader feeling rewarded, charmed and with a different outlook on life. In short,  Sapphire is amazing and I've never read anything quite like it.
Sapphire is the first book in what is currently a duology (Diamond is set to release October 29 2017). Although it's a lot darker than J A Low's Dirty Texas Series, Sapphire is easy to read and the kind of book you find yourself racing towards the end of only to want to start reading it again almost immediately.
Sapphire is very much a darker romance than J A Low's previous Dirty Texas Series. While the romance is still just as hot – possibly even more steamier and sexier in this book – the narrative itself deals with the dark underbelly of sex trafficking and the women who find themselves trapped in the industry after being kidnapped. It deals with the Russian Mafia, kidnapping and manipulation of and by sex workers, but it does so by putting a human face and emotion to a very ugly side of humanity. While these aspects of the story are confronting and very much in your face, J A Low, has expertly navigated a complicated story and brought her trademark warmth, heart and whit that we've seen and loved in the Dirty Texas Series previously to the page once again.
Sapphire is also a Male-Male-Female (MMF) romance. It's the first MMF book I've read to date and I absolutely loved it, but for some this unconventional romance might push boundaries a little too far. I really enjoyed the way we were introduced to Tomas and Mateo and the way their relationship was not only established but it felt real, so much so that when Zoe was introduced to the story and later their relationship it felt fluent and natural. The resulting narrative is then not only engaging as we get to see how a relationship consisting of three main players in navigated firstly in the home, and secondly by those in the know (Eg. family members), but it also makes for one hell of a sexy romance that leaves little to the imagination.
J A Low has done an amazing job bringing the characters to life in this book. While the main players – Tomas, Mateo, Zoe and our resident  Mafia villains Nikolai and Dimitri – are louder and larger than life, the secondary characters of Gracie and Zoe's Mum are equally hilarious and engaging and add some light comic relief and casualness to the story that helps break up some of the more darker aspects.
I really enjoyed the romantic suspense elements of this book, and I honestly had no idea where the story was going to go whilst reading. J A Low has created an expertly paced and succinct novel that is sure to leave readers content for the time being, but equally wanting more and more – I know I can't wait to read Diamond, the follow up novel that releases October 29!
All in all I highly recommend Sapphire for anyone who likes their romance with an edge, or is thinking about trying some of the darker romances on the market. In fact Sapphire would make a great introduction to the broader genre as it balances the darker elements with just the right comedic relief and warmth we know J A Low excels at. What's more the story is fresh and invigorating and it reads effortlessly – I know I was hooked within only a few pages!-  I'm really excited to see what is next for J A Low.

To purchase your own copy of Sapphire, visit the following online retailers:
To learn more about J A Low, visit the following social media sites: