Published: 2nd April 2018
Publisher:  Penguin Viking (Penguin Random House Australia)
Pages: 32
Format: Hardback Picture Book Courtesy of the Publisher
RRP: $24.99
4/5 Stars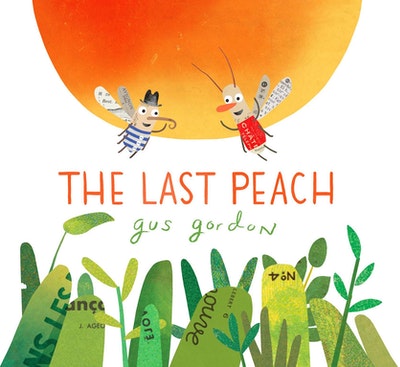 One fine summer's day two bugs discover the most beautiful peach of the season and are faced with a dilemma…
Who should eat it?
The Last Peach by Gus Gordon is an adorable and humorous picture book about friendship, food, and objects that are not as they may first appear.
The Last Peach is the story of two friends (mosquitoes?) who have found the most wonderful peach and can not wait to bite into it. After a couple of arguments and warnings from friends, the pair must decide what their feelings on the Peach are and if they are brave, and quick enough to snag a bite of it. … but is everything as it seems? And do they get the peach at the end? Only time will tell.
The first things I noticed about this book was the beautiful end papers featuring 18 different types of peaches – don't read this book if you are hungry! -, all of which that are so realistically and scientifically drawn that it took me longer than I am willing to admit to realise they weren't pictures.
The next striking feature of The Last Peach is the form in which Gus Gordon has used to tell his story. The narrative is told through colour coded dialogue between two friends once they stumble upon the most beautiful and ripe looking peach – possibly even the last one of the season. The tone is easy and conversational, and sure to leave young readers smiling and laughing at their rather unusual predicament.
Showcasing themes of friendship, sharing, the importance of listening and taking on advice, and how seemingly small issues can turn into massive fights when care is not taken. Lastly The Last Peach is a story that takes the reader by surprise, especially when they are so sure they know what is going on. It asks the reader to think twice and for themselves, so that they dont believe everything they see, for things are not always what they may first appear to be.
Each double page spread features one full page colour illustration on the left hand side, accompanied by one page of colour coded dialogue narrative on the right hand side. The form is unusual, but it works so well with the story and it makes the narrative feel so much more immediate and as though the reader is there spying on the mosquitoes.
All in all, The Last Peach is a cute and unique picture book that is sure to delight readers of all ages – just make sure you have peaches on hand in case you too find yourself with a desire to bite into a juicy ripe peach!
To purchase a copy of The Last Peach, visit the following online retailers:
To learn more about Gus Gordon, visit the following social media sites: