Published: 7th June 2018
Publisher: Orchard Books, an Imprint of Hachette Books
Pages: 276
Format: Paperback
RRP: $16.99
5/5 Stars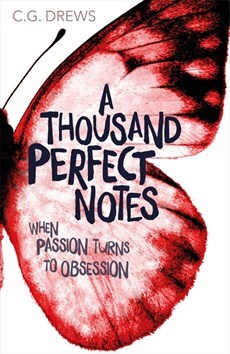 An emotionally charged story of music, abuse and, ultimately, hope.

Beck hates his life. He hates his violent mother. He hates his home. Most of all, he hates the piano that his mother forces him to play hour after hour, day after day. He will never play as she did before illness ended her career and left her bitter and broken. But Beck is too scared to stand up to his mother, and tell her his true passion, which is composing his own music – because the least suggestion of rebellion on his part ends in violence.

When Beck meets August, a girl full of life, energy and laughter, love begins to awaken within him and he glimpses a way to escape his painful existence. But dare he reach for it?
Arguably A Thousand Perfect Notes has been the most anticipated Young Adult début of 2018 for bloggers all over Australia, and the world. When Cait/C. G. Drews over at the blog Paper Fury (if you don't follow her, you need too!) announced that her début novel was being released this year, the internet pretty much exploded. Everyone, myself included, wanted to both celebrate a fellow blogger and read this amazing début from one of our own. Because of that, it's a book that's been super hyped in the online communities.
I don't usually read hyped books while they are big/popular because I always find the books to be so built up and expectations so unbelievably high, that the story has next to zero chance of meeting them. After many disastrous attempts, I made the general rule that I would not read a hyped book to avoid disappointment by an otherwise awesome book. A Thousand Perfect Notes made me break that promise and I am totally not sorry at all. Not one tiny bit.  Before we go any further, let me just say, A Thousand Perfect Notes and C.G. Drews deserve everything you've possibly heard and then some. This book is one of a kind; it's uniquely raw, passionate, obsessive and has the ability to rock your foundations.
A Thousand Perfect Notes does not read like a debut novel at all. C.G. Drew's writing is fresh, polished and astoundingly poignant and in your face. She doesn't let you hide away from the somewhat uglier side of life and the moments we would all rather not talk about. Instead she grasps them full force and throws them unapologetically in your face. Time and time again. What's more, she does all of this without you quite realising the onslaught of emotions and heartbreak that is coming your way.
I'm not going to go into plot in this review, as I truly feel this book is best enjoyed blind and experienced first hand, but I do want to point out that to anyone who has read the blurb, or thinks they know what A Thousand Perfect Notes is about; think again. Every single preconceived notion that you enter this book with, C.G Drews will smash it, by pass it and throw it back in your face with a thousand times more emotion and pain.  And by God, I loved her for it.
The narrative is raw, uncompromising, thought-provoking and intensely personal. It's beautiful in a mismatched, heartbreaking, change-your-world-kind-of-way … but let's be honest, it's painfully hard to read some of the scenes without instinctively reacting. Aggressively. Passionately. Devastatingly.
Prior to reading A Thousand Perfect Notes, I saw a lot of bloggers reacting on social media as they read their ARCS. So I was prepared to cry. In the end I surprised myself, by not crying, but don't let that fool you; for throughout the reading of this book, I found myself:
 Swearing at the characters. Out loud.
 Abandoning the book for a week because I knew, just KNEW, it was going to break my heart and I wasn't ready.
Despite the above point, I still devoured the book in two sittings.
Felt my heart snap in a thousand tiny pieces. Over and over again.
Scream when no one else was around to witness.
Shake uncontrollable.
Break out in goosebumps. Multiple times.
Stop breathing.
Start hyperventilating.
Stare at the closed book with my mouth hanging open.
I did most of the above, more than one time, so it's safe to say this is a book you will viscerally react to. The 'ahh' moment when the name makes sense … and when the title strikes its final cord, those … left me paralysed in fear.
Lastly, A Thousand Perfect Notes is a passionate, obsessive, chaotic, dark and gritty, raw, honest, thought-provoking and intensely overwhelming narrative. It's a story that hits all the right 'beats' and will leave you reeling at the most unexpected times. C. G Drews is a master of leading you down a path that you think you recognise, only to smash some of the most unbelievably strong and poignant  moments while your guard is down.
Do yourself a favour and track down a copy of this book ASAP. It is worth all the hype and the heartache. Trust me.
To purchase a copy of A THOUSAND PERFECT NOTES, visit the following online retailers:
To learn more about C.G. Drews, visit the following social media sites: