Published:2nd July 2018
Publisher: Puffin Books, an imprint of Penguin Random House
Pages: 32
Format: Hardback picture book (received from the publisher for review)
RRP: $24.99
4.5/5 Stars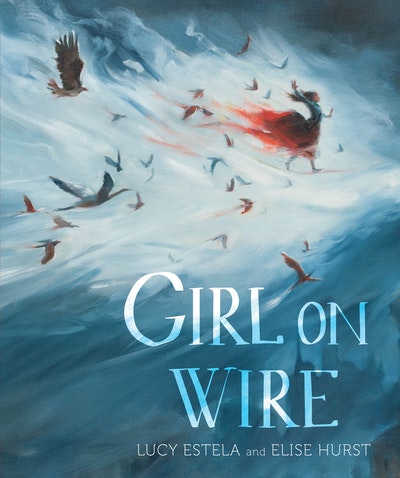 A poignantly beautiful story from the CBCA Shortlisted author of Suri's Wall, Lucy Estela, and Prime Minister's Literary Award shortlisted illustrator of Adelaide's Secret World, Elise Hurst.
Girl on Wire is a simple yet brilliantly uplifting allegory of a young girl struggling to build her self-esteem and overcome the anxiety that many children feel as they grow – she walks the tightrope, afraid she will fall, but with the support of those she loves, her toes grip the wire and she walks forward, on her own, with a new confidence.
Girl on Wire by Lucy Estela and Elise Hurst is a beauty to behold.
Girl on Wire  is the tale of a young girl as she crosses the wire – loaded with self doubt, anxiety and battling the pressure of heavy winds and dark skies, the child must learn to over come all obstacles and rise above the difficulties thrown her way.
It's clearly evident that while Girl on Wire  is a literal representation of a girl walking across a tightrope, the mental and emotional impacts of this book are much more far reaching. The allegory depicted can be carried through to all facets and ages in life, making Estela and Hurst's messages that much more profound.
"You are brave.

You are strong.

You can do anything.

You can be anything,

but it's all up to you."
The first thing I noticed of this astounding picture book was Elise Hurst's stunning illustrations. While Lucy Estela's text is uplifting, and all about confidence and finding your own way and voice in the shaky world we live in, it's Hurst's illustrations that really capture the readers attention and stay with you long after the book has been closed. Hurst's illustrations really capture the young girls fears and terror as she is walking alone through her issues and on that tightrope -likewise it also captures the relief of success and accomplishment when she has overcome the difficult task at hand.
Furthermore the superb use of colour by Hurst heightens the emotion and really brings home how dark and deep this picture book does delve into the human psyche.  The beginning of the book is dark and claustrophobic in many ways, slowly transitioning into lighter and more airer colours as the girl regains her sense of balance, confidence and self.
All in all this is a stunning picture book for older readers. While the message may be lost on toddlers and younger children, I believe children from the age of 8/9 years and up can gain a lot from this book as they transition through some of the toughest years of their lives.
To purchase a copy of Girl on Wire, visit the following online retailers:
To learn more about Lucy Estela, visit the following social media sites:
To learn more about Elise Hurst, visit the following social media sites: