Published: 26th February 2018
Publisher: Penguin Random House Australia
Pages: 32
Format: Hardcover picture book courtesy of the publisher:
RRP: $24.99
4/5 Stars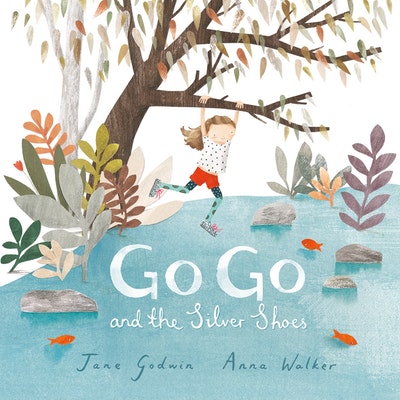 From the much-loved picture-book partnership comes this sparkly story of one independently minded little girl, and the unexpected, precious ways life sometimes works.

When Go Go is allowed to buy the most beautiful shoes ever, she decides she will wear them EVERYWHERE!
Even to the creek, where she and her brothers go adventuring.

But – Oh no, Go Go! – that's when a terrible thing happens . . .
Go Go and The Silver Shoes by Jane Godwin and Anna Walker is an adorable picture book about favourite belongings, bad decisions, lost items and learning to share.
Go Go is a fiercely independent little girl who walks to the beat of her own drum. With three older brothers, and all their hand me down clothes, she has learnt to embrace her own style and second hand clothing. When given the most amazing pair of silver shoes that she has ever laid eyes on, she never wants to take them off. Even when venturing on epic adventures with her brothers and against her mother's advice. Tragedy strikes and one of the shoes are lost, after mopping initially, Go Go sets about finding what she can do with one shoe.
What I love about this book is the strength of character and resilience Go Go display. Here is a child that is bullied at school for her unusual clothing style, and her decision to wear different (non-matching) shoes. She shows real value and stands out as a shining example of the juxtaposition between the values we place on everyday items. Most people in Go Go's situation would have thrown the useless shoe away. Not Go Go though, her most prized possession maybe missing it's other half but it is still deeply personal and special to her.
Because of her tenacity, resilience and strength of character, Go Go is led back to her other shoe when the new girl Ellie arrives at school and thus a unique, special and unshakeable friendship is born.
Go Go and The Silver Shoes is a rewarding and fun picture book about embracing life's challenges, friendship and being your own person. The text and narrative is simple and easy to understand, while the illustrations are engaging, making this an ideal picture book for young children and those young at heart.
To purchase a copy of Go Go and The Silver Shoes, visit the following online retailers:
To learn more about Jane Godwin, visit the following social media sites:
To learn more about Anna Walker, visit the following social media sites: