Published: 29th October 2018
Publisher: Puffin Books, An imprint of Penguin Books Australia
Pages: 32
Format: Hardback Picture book
RRP: $19.99
5/5 Stars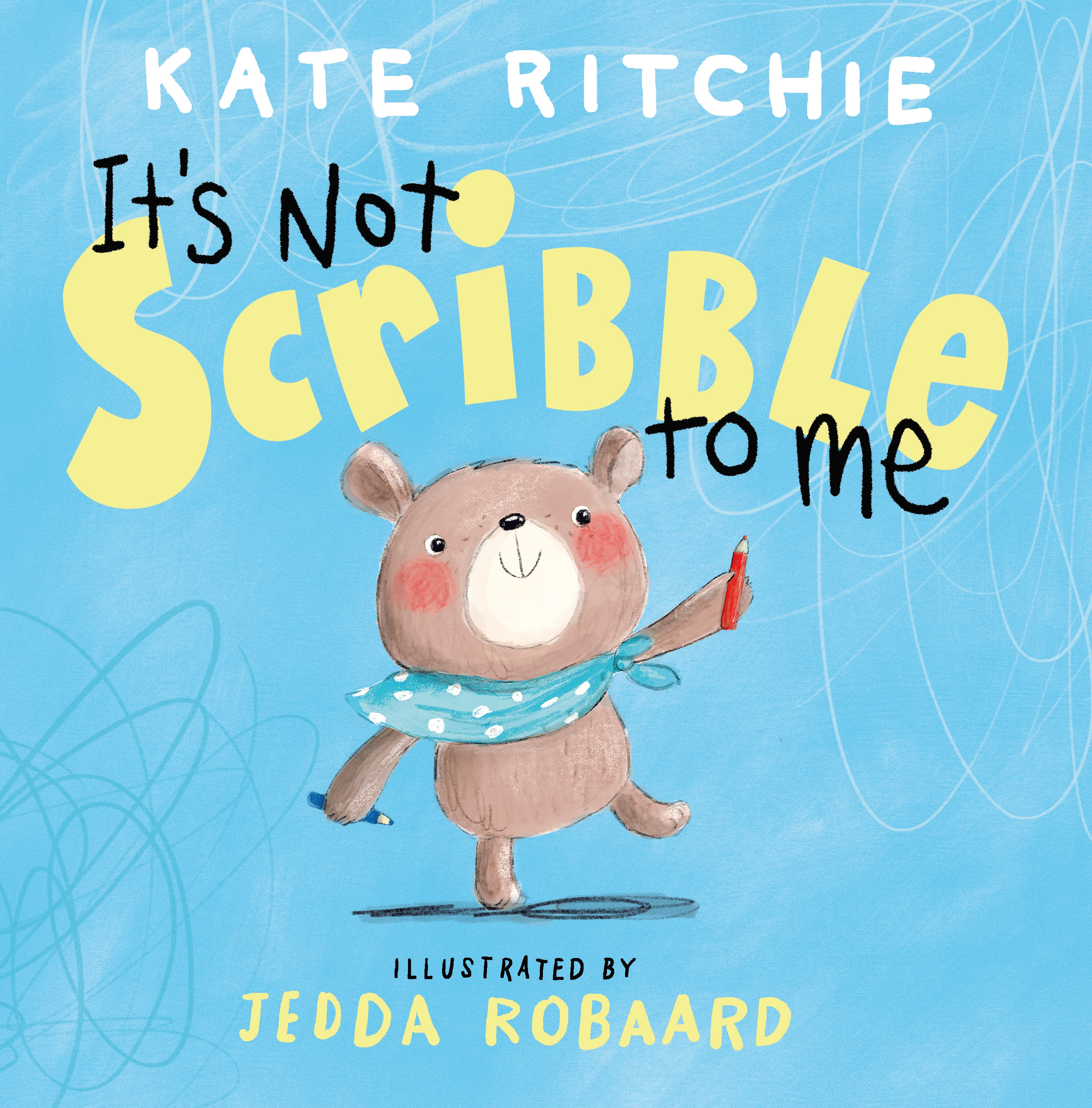 A warm and hilarious story about a cheeky little bear who's bursting with creativity.

Have you ever had so many wonderful, wild and beautiful ideas that paper isn't enough to hold them all?

Bear has. Upstairs and downstairs, outside and in, the whole house is covered in Bear's colourful art – even Bear's little sister. Can Bear convince her parents that she's creating more than just 'scribbles'?

All families will relate to this funny story of toddler cheekiness and charm, written by Kate Ritchie, author of I Just Couldn't Wait to Meet You and illustrated by Jedda Robaard.
It's Not Scribble To Me by Kate Ritchie and Illustrated by Jedda Robaard is a unique picture book with universal appeal. With gentle but poignant reminders to parents and adult readers, it's the kind of book that is incredibly creative and imaginative, supportive and defining, but also incredibly stunning to behold. It's a one of kind picture book that reads slightly different to readers in all walks of life and ages. Simply put, I loved it.
It's Not Scribble To Me at its base level is a picture book aimed at parents, but for kids, that gently reminds everyone that those pesky scribbles that we yell and scream about for being messy, out of control, inconvenient and well, naughty, are not ill-conceived, malicious or intended to harm or hurt. Instead, they are a childlike expression of story, imagination and free expression that perhaps needs a guiding hand into more 'traditionally accepted' mediums.
Told through the family of bears, It's Not Scribble To Me  has a child like focus and voice, as Bear tells us exactly what her highly creative and imaginative images are that decorate and are scrawled all over her house. She speaks to her parents about how her images are not simply drawings, but rather stories told through colour and imagintation in the only tool she has at her reach – pens, paints and crayons. The images that fill her mind and imagination are literally transferred to the pages and spill over into every available surface (floors, walls, bathrooms… the list is endless etc). When her family figures, as illustrated by Jedda Robaard, are pictured grumpy, angry, yelling and disheartened, Bear's voice remains passionate and innocent as she explains how exactly those drawings are not just scribbles to her.
In full disclosure, I'm not a parent, and I can see how highly controversial this book has the potential to be; for it does indeed initially read as an excuse and encouragement for children to draw on every available resource and surface as long as they have a good 'story' to back it up. But that's not what this book is actually about. In fact, I feel like the intended purpose of this story, apart from entertainment value, is as a teaching resource available to both parents and children alike. For adults, its a reminder to not be so quick to anger; to stop and listen and explain to the child in question about where best their artistic interpretations are better left (on the paper and not the walls), and perhaps even a comment on the need to not squash, limit and destroy a child's inner and true artistic ability (even when it looks like stick figures) and creative process . For children, it's a starting point to learn about the better ways to express themselves artistically and a way to open communication into their thought and creative/imaginative process.As well as a somewhat humours reminder that walls are not for drawing on.
I truly believe that Kate Ritchie has developed an intensely complex narrative concept, but uniquely simple and creative delivery  that appeals to readers of all ages. Her text, and story, is simply and easy to understand. Using short sentences and a child like voice full of innocence, hope and wonder, the narrative is easy to loose one self in.
Jedda Robaard's illustration are striking and empowering when combined with Ritchie's text. Featuring full double page illustrations, full of intense colour explosion and perfectly capturing a childlike wonder and innocence that is sure to transport everyone back to their childhood.
It's Not Scribble To Me is a highly creative and imaginative text that will appeal to readers of all ages and artistic abilities. It's a reminder to stop and listen, and a learning tool in how to better channel communication and artistic expression.
To purchase a copy of It's Not Scribble To Me, visit the following online retailers:
To learn more about Kate Ritchie, visit the following social media pages:
To learn more about Jedda Robaard, visit the following social media pages: