2018 was a truly fantastic bookish year that saw me read over 126 books, attend countless book events, author talks and book signings. It saw me reach out for new genres, authors, and even 'styles' of books.
Below is a list of ten amazing books that I read in 2018. Each and every single one of them are unique, powerful, emotional, life changing and outstanding narratives that are true testaments to the wonderful bookish year that was 2018.
I'm not going to number them in any particular order, as that just makes me super anxious about choosing the 'right' book for each position and is the reason these posts have never really been done on the blog in the past. I made a promise to myself that 2019 would see me step outside my comfort zone however, and this is the first of many steps in order to do this.
My top ten of 2018 (in no particular order):
A warm-hearted rural romance about getting your life back on course … for fans of Tricia Stringer A traumatic past, a charismatic stranger and a family legacy … Golden's quiet country life is about to get messy …When the diminutive but fiery Golden Saunders falls from her horse and smashes her leg irreparably, and her racing family is disgraced by a corruption scandal, she thinks she's hit rock bottom.Then the enigmatic Tor Amundsen, United Nations diplomat (read: spy), arrives on the scene and proves her wrong. His investigation into her family pulls her back into a world she had escaped, and the branch of the family she has tried to avoid at all costs. Tor is infuriated and frustrated by the impossible mixture of fragility and fierceness that is Golden, true, but he is also strangely protective of her.Golden wants no part of it. Men have pushed her around her whole life. The last thing she needs is an arrogant, irritatingly handsome man telling her what to do. But it turns out Tor has a way with animals, children and, well, Golden…Before too long, she finds their overwhelming attraction is overriding her good sense, and as they are both pulled deeper into the murky world of dirty money, things are about to get messy, and Golden's small, quietly ordered life will change beyond recognition…Can Golden overcome her fears and the shadows of the past and reach for a new kind of future? Will she ever be able to get her life back on the right track?

An emotionally charged story of music, abuse and, ultimately, hope.

Beck hates his life. He hates his violent mother. He hates his home. Most of all, he hates the piano that his mother forces him to play hour after hour, day after day. He will never play as she did before illness ended her career and left her bitter and broken. But Beck is too scared to stand up to his mother, and tell her his true passion, which is composing his own music – because the least suggestion of rebellion on his part ends in violence.

When Beck meets August, a girl full of life, energy and laughter, love begins to awaken within him and he glimpses a way to escape his painful existence. But dare he reach for it?
Giovanna, Zoë and Declan have always been a trio – their fierce friendship has seen them through every heartbreak and hardship and helped pave the way to brighter futures. Gio is a passionate baker of cakes, pastries and all things delicious, Zoë a take-no-prisoners beauty, and Declan an ambitious businessman on the way up.

Best friends forever, Gio thinks – until Gio's lifelong crush on Declan is exposed, leaving her humiliated, and Gio realises she needs to cut him loose to get over him once and for all.

Enter Theo, Gio's neighbour … She's never met anyone like him before. He doesn't talk much, but he's kind, he's sexy, he's generous and he's often awake in the middle of the night, like Gio. Theo has a sweet tooth and a mysterious history and Gio can't seem to stay away.

Thanks to the power of sleepless nights and chocolate cake, Gio thinks she's finally over Declan, but then his whole world turns upside down. Gio knows she can't desert Declan in his time of need, but how can she explain a lifetime of love to Theo?

Letting go of the past isn't so easy when your heart is breaking.
In April 1942, Lale Sokolov, a Slovakian Jew, is forcibly transported to the concentration camps at Auschwitz-Birkenau. When his captors discover that he speaks several languages, he is put to work as a Tätowierer (the German word for tattooist), tasked with permanently marking his fellow prisoners.

Imprisoned for over two and a half years, Lale witnesses horrific atrocities and barbarism—but also incredible acts of bravery and compassion. Risking his own life, he uses his privileged position to exchange jewels and money from murdered Jews for food to keep his fellow prisoners alive.

One day in July 1942, Lale, prisoner 32407, comforts a trembling young woman waiting in line to have the number 34902 tattooed onto her arm. Her name is Gita, and in that first encounter, Lale vows to somehow survive the camp and marry her.

A vivid, harrowing, and ultimately hopeful re-creation of Lale Sokolov's experiences as the man who tattooed the arms of thousands of prisoners with what would become one of the most potent symbols of the Holocaust, The Tattooist of Auschwitz is also a testament to the endurance of love and humanity under the darkest possible conditions.
Vanessa Mazur knows she's doing the right thing. She shouldn't feel bad for quitting. Being an assistant/housekeeper/fairy godmother to the top defensive end in the National Football Organization was always supposed to be temporary. She has plans and none of them include washing extra-large underwear longer than necessary.

But when Aiden Graves shows up at her door wanting her to come back, she's beyond shocked.

For two years, the man known as The Wall of Winnipeg couldn't find it in him to tell her good morning or congratulate her on her birthday. Now? He's asking for the unthinkable.

What do you say to the man who is used to getting everything he wants?

What's the point of having a voice if you're gonna be silent in those moments you shouldn't be?"

Sixteen-year-old Starr lives in two worlds: the poor neighbourhood where she was born and raised and her posh high school in the suburbs. The uneasy balance between them is shattered when Starr is the only witness to the fatal shooting of her unarmed best friend, Khalil, by a police officer. Now what Starr says could destroy her community. It could also get her killed.
Dear Evan Hansen,

Today's going to be an amazing day and here's why…

When a letter that was never meant to be seen by anyone draws high school senior Evan Hansen into a family's grief over the loss of their son, he is given the chance of a lifetime: to belong. He just has to stick to a lie he never meant to tell, that the notoriously troubled Connor Murphy was his secret best friend.

Suddenly, Evan isn't invisible anymore–even to the girl of his dreams. And Connor Murphy's parents, with their beautiful home on the other side of town, have taken him in like he was their own, desperate to know more about their enigmatic son from his closest friend. As Evan gets pulled deeper into their swirl of anger, regret, and confusion, he knows that what he's doing can't be right, but if he's helping people, how wrong can it be?

No longer tangled in his once-incapacitating anxiety, this new Evan has a purpose. And a website. He's confident. He's a viral phenomenon. Every day is amazing. Until everything is in danger of unraveling and he comes face to face with his greatest obstacle: himself.

A simple lie leads to complicated truths in this big-hearted coming-of-age story of grief, authenticity and the struggle to belong in an age of instant connectivity and profound isolation.

There are three things you need to know about Janie Morris: 1) She is incapable of engaging in a conversation without volunteering TMTI (Too Much Trivial Information), especially when she is unnerved, 2) No one unnerves her more than Quinn Sullivan, and 3) She doesn't know how to knit.

After losing her boyfriend, apartment, and job in the same day, Janie Morris can't help wondering what new torment fate has in store. To her utter mortification, Quinn Sullivan- aka Sir McHotpants- witnesses it all then keeps turning up like a pair of shoes you lust after but can't afford. The last thing she expects is for Quinn- the focus of her slightly, albeit harmless, stalkerish tendencies- to make her an offer she can't refuse.
By #1 New York Times bestselling author Holly Black, the first book in a stunning new series about a mortal girl who finds herself caught in a web of royal faerie intrigue. Of course I want to be like them. They're beautiful as blades forged in some divine fire. They will live forever.And Cardan is even more beautiful than the rest. I hate him more than all the others. I hate him so much that sometimes when I look at him, I can hardly breathe.Jude was seven years old when her parents were murdered and she and her two sisters were stolen away to live in the treacherous High Court of Faerie. Ten years later, Jude wants nothing more than to belong there, despite her mortality. But many of the fey despise humans. Especially Prince Cardan, the youngest and wickedest son of the High King.To win a place at the Court, she must defy him–and face the consequences.In doing so, she becomes embroiled in palace intrigues and deceptions, discovering her own capacity for bloodshed. But as civil war threatens to drown the Courts of Faerie in violence, Jude will need to risk her life in a dangerous alliance to save her sisters, and Faerie itself.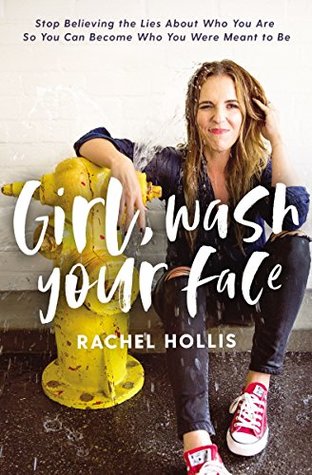 Do you ever suspect that everyone else has life figured out and you don't have a clue? If so, Rachel Hollis has something to tell you: that's a lie.

As the founder of the lifestyle website TheChicSite.com and CEO of her own media company, Rachel Hollis developed an immense online community by sharing tips for better living while fearlessly revealing the messiness of her own life. Now, in this challenging and inspiring new book, Rachel exposes the twenty lies and misconceptions that too often hold us back from living joyfully and productively, lies we've told ourselves so often we don't even hear them anymore.

With painful honesty and fearless humor, Rachel unpacks and examines the falsehoods that once left her feeling overwhelmed and unworthy, and reveals the specific practical strategies that helped her move past them. In the process, she encourages, entertains, and even kicks a little butt, all to convince you to do whatever it takes to get real and become the joyous, confident woman you were meant to be.

With unflinching faith and rock-hard tenacity, Girl, Wash Your Face shows you how to live with passion and hustle–and how to give yourself grace without giving up.
Honourable mentions go to: