Published: 6th February 2018

Publisher:Nelson Books, An Imprint of Thomas Nelson
Pages: 220
Format: Hardback (purchased)
RRP: $22.99
5/5 Stars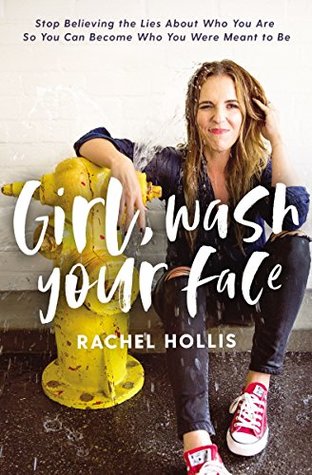 Do you ever suspect that everyone else has life figured out and you don't have a clue? If so, Rachel Hollis has something to tell you: that's a lie.

As the founder of the lifestyle website TheChicSite.com and CEO of her own media company, Rachel Hollis developed an immense online community by sharing tips for better living while fearlessly revealing the messiness of her own life. Now, in this challenging and inspiring new book, Rachel exposes the twenty lies and misconceptions that too often hold us back from living joyfully and productively, lies we've told ourselves so often we don't even hear them anymore.

With painful honesty and fearless humor, Rachel unpacks and examines the falsehoods that once left her feeling overwhelmed and unworthy, and reveals the specific practical strategies that helped her move past them. In the process, she encourages, entertains, and even kicks a little butt, all to convince you to do whatever it takes to get real and become the joyous, confident woman you were meant to be.

With unflinching faith and rock-hard tenacity, Girl, Wash Your Faceshows you how to live with passion and hustle–and how to give yourself grace without giving up.
Girl, Wash Your Face is arguably the book I heard everyone talking about last year … and I totally understand why.
I believe that you are a not a mistake – and feeling guilt about who you are (working, staying at home, overweight, underweight, overeducated, undereducated, emotional, bookish, street smart, or whatever) does a disservice to yourself and the creator who made you.
This review is going to be a hard one to write, for in order to do that I need to be willing and able to admit out loud that there are many aspects of my life that I felt like a failure in, insecure with and just downright terrified and stuck in a rut by. I'm not going to break down those fears, except to say that I was aware of the way I was feeling and what those feelings were ultimately doing to me (holding me back). Perhaps I  was even subconsciously looking for a way to fix these aspects of my life and thus Girl, Wash Your Face came along at the perfect time.
There are hundreds of ways to lose yourself, but the easiest of them all is refusing to acknowledge who you truly are in the first place.
Everyone talks about the books that change your lives for the better, and while it's cliche as hell to say so, I'm going to say this book has done that for me. While it wasn't earth shattering, Girl, Wash Your Face is the kind of book that confirmed many of my fears and suspicious and allowed me to let go some of the guilt that I had been holding on to for the past five or so years. It's a book that allowed me to critically look at my life and see what BS was holding me back from achieving the things I really want out of life. In parts it was incredibly disheartening to read when I applied the narrative to my own life, but inspiring, liberating and down right hopeful as well.
You-the real you- is not an accident.
Girl, Wash Your Face is not going to be a book that is for everyone. There will be readers out there rolling their eyes and going 'dah!' to everything this book represents and talks about. There will be things that aren't applicable to you and your life. That's totally fine; there were many aspects not applicable to me either, or other areas that I knew I had control over… but the biggest thing I took away from this book was the feeling of community, of knowing that I wasn't alone in feeling the way I was in some regards to my life and knowing how to start going about correcting those missteps, how to take that giant leap into the unknown and actually let myself be who I was meant to be. It was recognising the patterns and fears I held on to unwittingly and unwillingly, and learning to overcome them.
Those dreams you have for yourself are not silly; they are the road map to your divine calling! Don't sit this one out. Don't let someone else's opinion of you determine your worth. Don't miss out on the chance to live the life of incredible possibility in front of you.

You were not made to be small.
Girl, Wash Your Face is not your typical wellness or self help book. Not by a long shot. Social media superstar Rachel Hollis has created a book to help women of all ages, one that looks intently at the lies  the media and society constantly feed us and the ones we so readily eat up and feel ashamed about. It's an honest, raw and a thought provoking book that examines Rachel's life while shedding light on the world as a whole.
Broken into chapters examining the common lies we believe and compare our everyday lives too, Hollis has broken down some of the biggest issues women face on a daily basis into short bite size features. However, don't be fooled by the chapter size, for Hollis doesn't pull any of her punches throughout the entire book as she examines, explains, and busts the myths and lies that we so readily follow unconsciously. What's more, for each lie, Hollis gives personal and in depth examples from her own life and explains how she changed her thinking to overcome these roadblocks and finishes every chapter with short and sweet guides on how you too can work through the issues.
Covering topics ranging from the idealistic 'something else will make me happy' to the more problematic 'I'm not good enough/ I'm better than you' mentality, to the downright absurd   'I'm going to marry Matt Damon' and the frightfully scary 'I need to make myself smaller',Girl, Wash Your Face covers all the basis and seeks to empower, rebuild and inspire women to step outside of the small boxes we've placed ourselves in.
It's, dare I say it, revolutionary in it's conversational tone and honest look, that will appeal to readers from all over the world. What I find perhaps most appealing about this book, is the way Hollis is able to deal the mother of all wake-up-calls without making you feeling insane or stupid for feeling or thinking that way in the first place. On every page she acknowledges the mistakes and missteps she's made. but she found a way through them all and is here now to light a fire under your ass so that you too can walk free from the shame, guilt and fear that holds you down.
Girl, get a hold of you life. Stop medicating, stop hiding out, stop being afraid, stop giving away pieces of yourself, stop saying you can;t do it. Stop the negative self-talk, stop abusing your body, stop putting it off for tomorrow or Monday or next year. Stop crying about what happened and take control of what happens next. Get up, right now. Rise up from where you've been, scrub away the tears and the pain of yesterday, and start again .. Girl, wash your face!
To learn more about Rachel Hollis, visit the following social media sites:
To purchase a copy of Girl, Wash Your Face, visit the following online retailers: