Published: 17th December 2018
Publisher: Harper Collins Children's Books
Pages: 32
Format: Hardback Picture Book
RRP: $14.99
3.5/5 Stars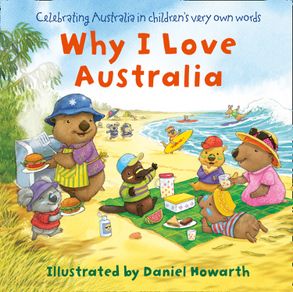 'I love Australia because… '

This beautiful book combines endearing things said by children about Australia, with fun illustrations of cute Australian animals. And from the beautiful scenery to the plentiful outdoor activities, there is certainly a lot to love!

The perfect keepsake for residents and visitors of Australia!
Why I Love Australia is the most recent addition in the best selling worldwide Why I Love Series and it's just in time for Australia Day 2019.
Using children's own words as they describe the many reasons as to why they love Australia, author and illustrator Daniel Howarth has created a picture book celebrating the best and most diverse parts of Australia and it's culture.
Featuring full, double page, bright illustrations Howarth has certainty created an eye-catching and memorable picture book covering everything from Australia has to offer from the theme parks on the Gold Coast, Queensland to the tropical rainforests, food, beaches, Indigenous culture, cricket, the outback and Uluru, Sydney Harbour  and everything in between.
What's more Why I Love Australia is inclusive, not only in text, but through the deliberate use of Australian flora and fauna as representation throughout the book. Featuring a wide range of Australian aniamals, readers will delight in seeing Koalas, Kangaroos, Emus, Echinda's, Quokka's, Kookaburra's and Platypus's (just to name a few) taking part in some of their favourite activities and being in their favourite places within Australia.
Taking it all a step further, Howarth has included a chance for the reader to personalise the book that little extra bit with the very last page have a dedicated space for the reader's photograph as the story ends with '.. Everyone loves Australia, especially …. ME!' This personal touch is quite unique and adds another dimension to what is otherwise a fairly decent portrayal and encompassing picture book for kids, and people visiting Australia.
The one downfall I have with this book is the concept of 'written in Children's very own words'. Some of the phrasing used and choices chosen leads me to question who these children are and what ages they are? While the text is largely simple and easy to read in big bold font, the phrasing of some of the reasons makes me think the children in question are a lot older than those this book is aimed at OR that they have been edited and perhaps swayed in one direction or another. To make matters worse, I can't find anything on how they find, choose or recruit the children or their words for the book; all of which makes it a bit murky for me personally.
All in all Why I Love Australia is a pretty spectacular picture book perfect for teaching young children about Australia, for celebrating all the best parts of the country and it would make the best gift for any tourist looking for a keepsake.
To purchase a copy of Why I Love Australia, visit the following online retailers: