Following on from yesterday's post where I reviewed the new Charlie & Fox's disc-bound Reading Journal, today I wanted to share with you some gift ideas for the book lover in your life. Most of the items mentioned are not books themselves but are bookish related to some extent, and thus are perfect for everyone.
Note: None of the links used are affiliate links, nor are any of the items mentioned below sponsored in any shape or kind. I simply discovered them one day and fell in love with them myself.
Charlie & Fox's Reading Journal
If you read yesterday's review, you know how much I love this reading journal. So it should come as no surprise to anyone that I think it would make the perfect Christmas present for any book lover who likes to document what books they read and capture how they felt about the book in the moment.
Price: $59.99AUD
Purchase from Charlie & Fox
Book Sleeves and Fabric Dust Jackets
As readers we love to take our books with us everywhere, but we need a way to protect them. This year I discovered Charlie & Fox and purchased a tonne of their book sleeves and fabric dust jackets and am honestly so impressed with the quality, options and price. They also just released a Sarah J Maas line of fabric book sleeves, dust jackets and bookmarks.
Price: $
Purchase from Charlie & Fox
Amplify Bookstore Book Subscription
While I tried to keep this gift guide mostly book-free, I did want to highly recommend this underrated hidden gem of an Australian Bookstore: Amplify Bookstore.
Originally started as online-only bookstore in Melbourne (I think they are about to open a brick & motor store shortly), Amplify Bookstore is an amazing one-stop shop for diverse reads from all over the world. Featuring a brilliant blend of captivating new releases, engaging back catalogues and home to the bi-monthly Discovery Pack subscription service, there truly is so much to love about this small Australian business.
I have been subscribed to The Discovery Pack, a bi-monthly subscription service that spotlights a different continent/region's fiction and non-fiction in every box, for the past year and I absolutely love it. The subscription has introduced me to so many new-to-me-authors and I've really enjoyed learning more about the world through the eyes of #ownvoices authors.
If a subscription service is outside of your budget, I highly recommend you sign up to their newsletter, as Amplify put out the best newsletters highlighting diverse voices from all around the world. I have brought so many books from them for myself.
Price: $60 every two months for one year (note, you get two books delivered every two months)
Purchased from Amplify Bookstore.
Personalised Book Embosser
While there are a lot of options out there on how to best catalogue and personalise your own home library, I think Book Embossers are among the most elegant out there. Understated and elegant, embossers have the ability to mark any book as being part of your library without being gaudy or taking too much focus away from the main event (aka the book that is marked).
I don't have one of these yet, but it's on my long-term list to order one that I best think captures my essence. At the top of my wishlist currently is Melbourne-based Stampful's designs. I love so many of them that I can't choose which one I want most.
If embossers aren't your style, there are book library stamps that do the same job. I just prefer the more subtle effect of embosser. They also have the added bonus (I assume) of being almost impossible to stuff up, and less noticeable if you do. I'm not a great stamper; I have a tendency to not ink things properly or to smudge them.
Price: $72 AUD
Purchase from Stampful
TBR Baskets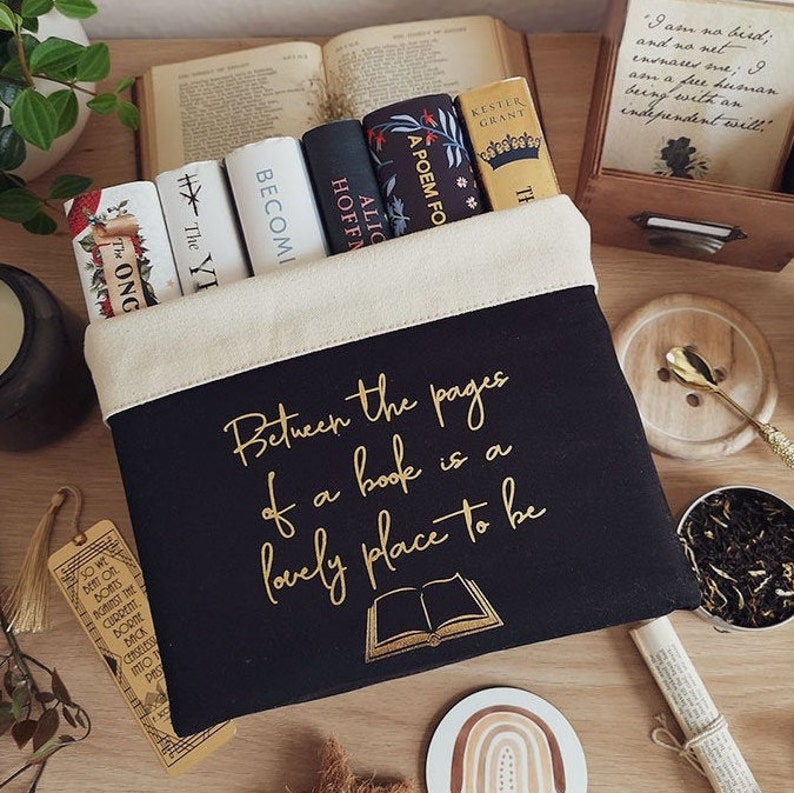 If you are anything like me, your bedside table is home to a towering stack of TBR books that you desperately want to read. While there is nothing wrong with that, I do think these TBR baskets would make the perfect gift for a reader (especially someone who makes a TBR) to keep their next reads organised and close at hand.
Price: $28.99 AUD
Purchase from Etsy via seller missbohemia
Out Of Print Library Card Pouch or Tote Bag
There are a couple of BIG book signings taking place in Australia in 2023, and I think not only would these Out of Print pouches and totes make the perfect gift for readers, I think they could also be extra special signing momentum. I recently purchased the Out of Print library card pouch to use at the upcoming RARE signing in Melbourne and BABE in Sydney. My plan is to get my favourite authors sign and date the pouch with a laundry pen so that it will last forever.
Price: roughly $20 AUD
Purchase direct from Out of Print online, or through most bookshops and Amazon
Book related games
I stumbled across these cute little literature-inspired trivia cards at my local Dymocks booksellers recently. While there is no romance selection, I was torn between buying all three of the card sets for different friends and myself. I think this would be a super cute idea to play with your bookclub or just your close book friends over a glass of bubbly and cheese and biscuits.
Price: $12.99 AUD
Purchase from Dymocks Booksellers.
Bookmarks
Bookmarks are a vital part of every reader's collection. While there are thousands of amazing bookmarks out there, I'm shouting out a new Australian venture between Mel, Lana and Ely aka The Last To Read Book Club on Etsy as Bookaburra Creations. They have some of the cutest bookmarks, including the adorable Moo'd Reader bookmark below that I added to my cart quicker than you say Moo. Their designs are lovely and I can't wait to see what they bring out in the future.
Price: $4 AUD
Purchase via Etsy from Bookaburra Creations
Book Ends
With the rise of Booktok, bookends are making a comeback and amazon have some really interesting ones.
Price: $40+
Purchase via Amazon
Bookish Drinkware
Every reader knows you need substance to read comfortable so why not make it bookish with some of these stunning bookish drinkware options.
Price: $68AUD
Purchase via Amazon
Did I miss anything you think should have been included? Let me know in the comments below.