Welcome to this week's edition of Let's Talk Books. Today's special guest is Tracy from The Pages In Between.  Check out what Tracy has to say below and then visit her blog via the links below.
My name is Tracy, I am a mother of 4, two teenagers, and 3 year old twins. I live in Illinois, and cannot wait to move back to Washington State. My husband did some time in the Military and now he is in school full time, working towards his Masters in Computer Science. He is the creative genius behind my blog, and also my I.T. guy. ( I do all my own posts and photos) I am a stay at home mom, and I love baking, cooking, shopping, reading, and binging on t.v. You can find my blog at http://www.thepagesinbetween.com and follow me on Instagram @thepagesinbetween https://www.instagram.com/thepagesinbetween/
What are you currently reading?
I am currently reading Updrift by Errin Stevens
What's the last book you bought?
The last book I bought was Hold Me Like A Breath by Tiffany Schmidt and Under the Lights, (Field Party bk 2) by Abbi Glines
Do you prefer to read books in print or electronically?
Print is my go to, but I review a lot of e-books, so I am starting to not like one more than the other.
If I was to walk into your house right now, what would your bookshelves look like? Do you have an organisation system (genre, colour, author…) or are you just happy to go with the flow?
My shelves are arranged by size, and I try to keep all the books by the same author together. Some shelves are stacked differently than others, to maximize space. I have three bookcases, with six shelves a piece. And sadly, I am out of room. 😦
How often do you read?
Daily
Describe what you would expect to find in your dream book?
Oh, that's a tough question, I like so many different genres, and different types of books, I don't know that I could add it all into one book. But it would have romance, in the style of Colleen Hoover, Family strength in the style of Jamie McGuire, It would not be the typical girl meets boy and they fall in love in a week. There would be a build up. Friendships would have ups and downs, and I really love Paranormal aspects to books too. Man, this would be a crazy book!
How do you choose what to read next?
Well, that depends, if its a requested review, I will read whichever one is due first. If its reading for pleasure, my mood dictates a lot of what I read. I've been on a New adult kick lately. So it's been Colleen Hoover, and Jamie McGuire, and I read this AMAZING ARC the other day, Aftermath by Clara Kensie, it comes out in October. It was really such an incredible book.
So you've started a book and discover it's not for you. Are you more likely to discard it or finish it?
I finish it, even if it takes months. I can only recall one time where I didn't finish it. The book made my stomach turn. I just couldn't finish it.
If you could read any book again, for the first time, what book would you choose?
It Ends With Us. (I still can't shake that book from my thoughts)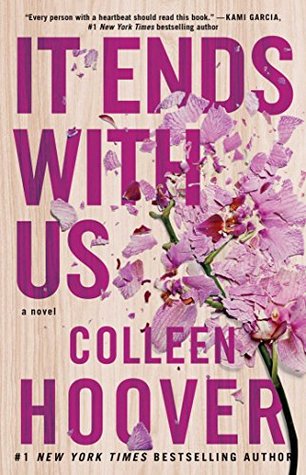 What is about books that appeals to you so much? What is your favourite part about reading?
I was held back in school, I went from 1st grade, back to Kindergarten, because I couldn't read. It forced me to work hard, and once I learned to read, I couldn't be stopped!
My favorite part of reading is the distraction from life, I can open a book and be a part of a whole new "world" so to speak. If I'm having a bad day, I can read a story about someone having a great day or even a bad day, and it just helps.
Can you tell us a bit about your blog and how long have you been blogging for?
So, I had discovered the world of Bookstagram, and I loved it, than I felt like I needed to start blogging, it was hard to find anyone to talk about books with, my husband is not much of a reader. So in April, I picked out my blog name, my husband bought the domain name, and built my blog for me, now here I am, meeting the most amazing book lovers, authors, and getting to partake in stuff like this. I went from having no one to talk books with, to THOUSANDS. I love it.
What has been your favourite book you've reviewed on your blog?
A Beautiful Funeral by Jamie McGuire, I've been with Maddox Brothers from the first book, so it was quite the honor to do a review for Jamie. I've heard she was very pleased with it. 🙂
Do you have any advice to other bloggers out there?
Write what you feel, don't worry about what so and so's blog looks like. And don't be afraid to say that you didn't really like a book. We book lovers appreciate honesty!
You can follow Tracy from The Pages In
Between via the following social media sites: