Dean Mayes is a new to me Aussie author who writes psychological thrillers and romance novels. I recently received an ARC of his soon to be released book – The Recipient – and it looks so good, that I simply can not wait to read it. The Recipient releases on 1st May 2016. More information on the book and it's pre-orders can be found at the bottom of this post. The Recipient is Dean Mayes' third book to be published.
What are you currently reading?
I've just started reading a autobiography called Not My Father's Son by actor Alan Cumming. It is quite a striking account of how Alan grew up in the shadow of a very cruel father in Scotland and how, in his adulthood, he sought the courage to confront his father and deal with years of abuse. It is a powerful story that has really moved me.
What was the last book you bought?
I bought a title called Before The Awakening, a Star Wars title that follows the three central characters from the new film " The Force Awakens" in three separate stories that take place just before the events in the film. I am a massive Star Wars fan so I enjoy every little bit of the franchise I can get my hands on.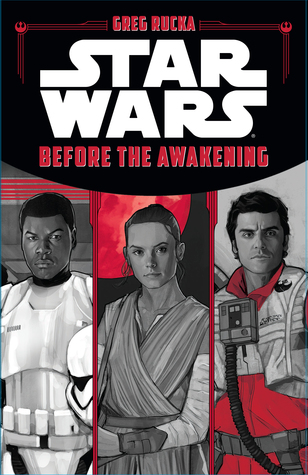 Do you prefer to read books in print or electronically?
I definitely prefer print but I am not opposed to reading electronic titles, especially those from up and coming authors. Often, the digital format is the only avenue open to them when they start out and there are some absolute gems if stories out there that deserve to be read, regardless of their format.
If I was to walk into your house right now, what would your bookshelves look like? Do you have an organisation system (genre, colour, author…) or are you just happy to go with the flow?
I have a custom made bookshelf here at home and it's something I'm really proud of. I usually organize my books in order of size – from left to right – but I'm not alphabetically inclined. Where I have a series of books, like Star Wars or, say a Manga series, I will line them up together – with the size prerequisite in mind.
How often do you read?
I'll say regularly but I do have gaps of time when I'm not reading anything. It's usually when I write. Though, even then, I'm probably reading something research related so, it's not often that I completely without some sort of text in my face. So, let me rephrase that – for enjoyment, I don't read often. For writing, I read a lot.
Describe what you would expect to find in your dream book?
In the case of fiction – decent characters that I can immediately connect with. Well drawn characters that drive a story forward is something really special and if I can't connect with them from the outset, it doesn't matter how good the setting or the description is, it is a lost cause. In non-fiction, I love an engaging story that illustrates the factual material, rather than a sterile presentation of facts.
How do you choose what to read next?
It depends very much on my mood. I don't go looking for a title but if something crosses my notice and I like the look of it, I usually give it a go.
So you've started a book and discover it's not for you. Are you more likely to discard it or finish it?
I will persevere with a title because, as an author, I appreciate just how big a task it is to put a book together. However if it becomes clear that the story telling is poor, the characters are not engaging or, it is clearly, poorly constructed, I won't persist.
If you could read any book again, for the first time, what book would you choose?
Probably Graham Greene's classic novel The Quiet American. Written in the 1950's, it is a captivating story that set in Vietnam and it scarily predicts events that occurred during the Vietman War as well as the subsequent fallout for nations like the United States that invested so much in to what was a lost campaign. It was such a revelation when I first read it, I would love to experience it again, as though I was coming to it for the first time.
What is about books that appeals to you so much? What is your favourite part about reading?
Well, I'm a writer, so I tend to appreciate the technical aspects of story telling and I will cherry pick techniques and stylistic choices that jive with me. But I also love being sucked into a world – whether it be fantastical or grounded in reality. I love having my imagination fired. I love thinking about the concepts and the agendas an author is trying to bring to the table.
Was there any particular book that inspired you to start writing?
It was less a book and more a writer. Matt Price was a former journalist who wrote a weekly article called 'The Sketch' in one of our national papers. I read it religiously because, even though they tended to be politically oriented, Matt Price was blisteringly funny. In September 2007, he was diagnosed with a brain tumour. By November of 2007, he was dead. I was compelled not to waste a moment from then on and I actually dedicated my first novel, The Hambledown Dream, to his memory.
Do you have any advice to other writers out there?
Keep a notebook and a pencil – it must always be a pencil. Often we get caught up in the convenience of technology that, I think, it's good to step away from that and work with simple paper and pencil. Observe life – even the most minute happenings in it. The way people converse in the street. The way a leaf blows in the wind. The way the rain falls. Write them all down. You never know when an idea will strike you and you want to be able to document it before you forget it.
And lastly, what are you currently working on?
I'm currently preparing for the release of my third novel The Recipient, a psychological thriller set in Melbourne, Australia. My publisher and I are finalising the novel for the printer, liaising with our distribution partner, IPG and we're doing a lot of media queries and promotional activities to support the release on May 1st, 2016. I am also gathering together ideas and material for a fourth novel that carries the working title "Walhalla". I want to return to the romance genre with this one and I'm pleased with how it's evolving.
To learn more about Dean Mayes, visit the following social media sites:
Release Date: 1st May 2016
Publisher: Central Avenue Publishing
Casey Schillinge is a vivacious young woman on the verge of making her mark on the world. While backpacking, she is struck down by a tropical disease and suffers cardiac failure. But at the eleventh hour, Casey receives a life-saving heart transplant – and a rare second chance to begin again.

Three years later, Casey has become a withdrawn shell of her former self: she is estranged from her loved ones, afraid of open spaces and rides the line between legitimate and criminal work. The worst of her troubles come in the form of violent night terrors; so frightening that she resorts to extreme measures to keep herself from sleeping. When she can take no more, she embarks on a desperate search for the source of her dreams. ​In so doing, she makes a shocking discovery surrounding the tragic fate of the donor whose heart now beats inside her chest. As she delves deeper into the mystery of her donor, she realizes her dreams are not a figment of her imagination, but a real life nightmare.